Tom Felton answers "Quickfire" Q&A with the Daily Mail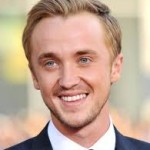 Feb 17, 2015
Tom Felton participated in Quickfire Q&A with the Daily Mail. Tom answered questions about his favorite super villains and super heroes, wanted secret powers and talents (yo-yoing?), star-struck moments, and style inspirations. You can see some of the Q & A below, and the rest at the Daily Mail.
Your guilty pleasure? Wearing my PJs all day. I'd be in them now if a film crew weren't here.

Career plan B? International rap superstar.

Who would play you in the movie of your life? Leonardo DiCaprio. He may be a bit too expensive, though.

Your most memorable kiss? The first one with my lady [stunt artist Jade Olivia]. It was outside her house with her dad watching out of the window, I'm sure!

Biggest bugbear? People who say 'like', after every, like, word that they, like, say. I'm sure I do it too, though.

As a child you wanted to be? James Bond. Still do, really.

Who is your best friend? Um, my mum? No, my girlfriend.

Secret to a happy relationship? Compromise. Mainly on the male side.

Optimist or pessimist? I'm optimistically pessimistic.

Style icon? Prince Charles.

Favourite villain? Dr Evil.

Where would you time travel to? Maybe just 100 years ahead. I'd like to know how things work out…

Most loved fairy tale? Jack and the Beanstalk.

Most underrated virtue? Good manners.

Your celebrity crush? Keira Knightley.