J.K. Rowling Writes another Heart-Warming Letter to a Fan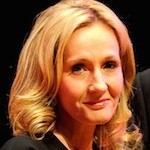 Feb 19, 2015
Many of us Harry Potter fans have always known that J.K. Rowling is amazing beyond words, with a heart three sizes bigger than normal. A letter to a bullied fan has been released. It is beautifully written, not that we expected otherwise, and touching. Johnnie Blue was a lucky fan who had the opportunity to meet J.K. Rowling at a Silkworm signing. There he presented her with a one-of-a-kind journal and a letter, which of course Jo responded to. Entertainment Weekly reports:
Dear Johnny,

You have fantastic handwriting. That's not the most important thing I've got to say to you, but I thought I'd mention it — I'm a connoisseur.

On to more important things:

What you say about Harry helping you at what was clearly a dreadful time in your life means more to me than I can easily express. I freely confess that I loathe bullying and the way it is still so often "handled" in schools.

Your experience is shocking and disturbing and that you have turned out to be a compassionate, moral, highly motivated person is high testimony to your courage. Gryffindor for you, my lad…

Thank you so much for the stunningly beautiful notebook. I love it.

This letter seems to be a series of non-sequiturs, but why break the pattern: I have family roots in Ayrshire — Arran, to be precise. And I've never been there. Embarrassing, isn't it? Don't tell the Nationalists. I'm sure we'll see each other again. In the meantime, I'll watch out for you on Twitter.

Love from Jo

Their correspondence didn't end there. They have stayed in contact through the magical powers of Twitter, where Rowling continues to answer Blue's tweets to her whenever he composes them.