J.K. Rowling donates to Rugby Charity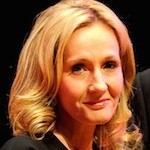 Feb 22, 2015
J.K. Rowling loves rugby. Anyone who has been following her twitter feed as of late is aware of this well known fact. Jo once mentioned that even wizards love the muggle sport of rugby. Given her generous nature, it appears that Jo has made a 5,000 pound donation to a children's rugby charity campaign, called Wooden Spoon. The charity is a fundraising campaign of Irish player, Geoff Cross, who plays for Scotland–Jo's team. The fundraiser is in support of Wooden Spoon, which strives to help disadvantaged and disabled children through the sport of rugby. Our friends at MuggleNet reported on the donation, saying:
I have been tempted in recent weeks to keep growing my beard but after a year's growth and an increasing amount of pressure from my wife I have decided to shave off my now infamous beard in the name of charity.

However before I go any where near the clippers we need to raise £10,000.
He further stated that
the money raised will go to the children's charity Wooden Spoon, which is dedicated to transforming the lives of disadvantaged children and young people across the British Isles through the power of rugby. It will also support my former Edinburgh Rugby club mate, John Houston's,  fundraising efforts. He needs to raise £50,000 for the 2015 Wooden Spoon Arctic Rugby Challenge.