Eddie Redmayne "Thrilled" for "Fantastic Beasts"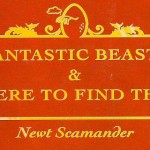 Jun 06, 2015
In an interview with The London Evening Standard, Eddie Redmayne expressed his excitement for his new role as Newt Scamander in Fantastic Beasts and Where to Find Them. Admitting that he could not say much else beyond how he felt about the movie project, reminded us of how little we know of the "Fantastic Beast" movie project. As Eddie enjoys a bit of a break between movie projects, we do know that filming has not yet begun for "Fantastic Beats." The London Evening Standard reports:
Speaking to the Standard last night, he said he enjoyed the original Harry Potter novels and "always loved that world".

He said: "I'm hugely excited, JK Rowling's a genius, I am so thrilled to be a part of it but I can't say a single word beyond that…I've always loved that world and I feel thrilled to be invited into it."

Speaking at a dinner in his honour at Quaglino's in Mayfair in his capacity as international ambassador for Omega, he said he has been enjoying some "gentle downtime" with wife Hannah Bagshawe.