Robert Galbraith's "The Silkworm" Nominated for an Award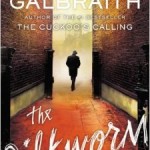 Jun 16, 2015
J.K. Rowling was happy to share (Tweet) that her friend, Robert Galbraith, has been nominated for a CWA Dagger Award for The Silkworm. A CWA award is given to the best crime novel of the year. The Silkworm was nominated for the first round of nominations. A short list of nominees will be released June 30. Robert Galbraith's website shared a quote from the CWA award chair:
CWA chair Len Tyler said: "Our judges have had a wonderful time reading all these brilliant books. What a year for crime fiction. These long lists are a great demonstration of how diverse and fascinating the genre is right now. No wonder it's the most popular type of fiction with UK readers."
Join us in congratulating Robert and Jo!