Alan Rickman talks about his Acting Nerves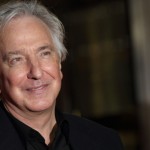 Jun 22, 2015
Even the professionals still get stage fright. In a recent article from the New York Daily News, Alan Rickman (Severus Snape) talked about the "risks" that come with acting, and why those "risks" are the reason he acts. Rickman said that he gets nervous when taking on roles that are further outside his natural character and comfort zone. Playing King Louis XVI in his new film, A Little Chaos, was one of those more challenging and nerve-racking roles. He talked of the particular challenges that come with playing someone of a different nationality, as well as a different time period. He also discussed roles that he is more famous for–such as his characters in Die Hard, Robin Hood: Prince of Thieves, The Buttler, CBGB, as well as Severus Snape in Harry Potter. The NY Daily News reports:
'EVEN THE man who portrayed the formidable Prof. Snape can get frightened.

Alan Rickman feels that way when playing men drastically different from himself.

One of stage and cinema's preeminent purveyors of complicated characters, he mentions roles like New York music-club king Hilly Kristal in "CBGB," and President Ronald Reagan in "The Butler."

One more intimidating part could be French monarch King Louis XIV in "A Little Chaos," opening Friday, which Rickman also directed.

"It's always hard when you play someone from a whole other country and background," says the English actor.

"But real terror, frankly, is standing in the wings of a theater about to go on for three hours, and no one says 'Cut!' if you screw up. Being frightened is good, though. Acting should be about risky projects as much as it can be about entertaining. The risk is what makes you want to do it."

"Die Hard," a smash hit and one of the greatest action films ever made, was Rickman's first Hollywood movie. His purring menace and catlike calm made terrorist Hans Gruber memorable.

"That was theater training, I suppose," he says. "I didn't play him as bad; as far as I'm concerned, in the film, I'm a great guy! Hans is very polite — he's warning people he'll kill them if they don't do as he says, and he says it very nicely until they piss him off!"

Then came the eight "Harry Potter" films, and Rickman's fate was sealed. His rich portrayal of Professor Severus Snape earned him a new legion of fans.

"The good news with Snape is that he was a surprise for everybody," Rickman says. "People think that I knew (the character's arc), but I didn't. All I had was a tiny image Rowling gave me that made me know I had to play in two directions at once. But there was something in him that indicated he wasn't all he seemed."

The art of creating characters depends, Rickman says, on a balance between order and confusion.'
Alan Rickman talked more of his project, A Little Chaos, which he starred in and directed. He also talks about working with Kate Winslet–her prepared performance and gumption as she filmed through pregnancy. The rest of the article can be read here. A Little Chaos will be released in limited US theaters this Friday, June 26.