8th Harry Potter Funko Pop! Figure Unveiled + Contest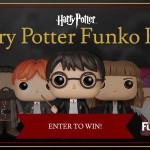 Jun 24, 2015
It appears that there is a new Quidditch Harry Potter Funko Pop! figure on the horizon. This new figurine is the eighth edition of Funko Pop! figures in the Harry Potter series. It is also a Hot Topic exclusive and cannot be purchased elsewhere (pictured below). Warner Bros.'  Harry Potter Wishlist has a contest you can enter to win all of the figures before they are even available for purchase:
'The first wave of the Harry Potter POP! release features fan-favorite characters including Harry Potter, Hermione Granger, Ron Weasley, Lord Voldemort, Albus Dumbledore, Rubeus Hagrid and Severus Snape. The Harry Potter figures will hit retail in mid-to-late July, but your friends at Harry Potter Wish List are giving fans the opportunity to win the complete Harry Potter POP! Vinyl Figures collection now, before you can buy them.'
This contest collection will include the Hot Topic exclusive Quidditch Harry Potter figurine. You can enter the contest here. All figurines in the Harry Potter Funko Pop! series will be available to purchase later this summer, July 31, in honor of Harry and Jo's birthday!
Thanks to our friends over at SnitchSeeker for posting about this!