J.K. Rowling confirms 'Harry Potter and the Cursed Child'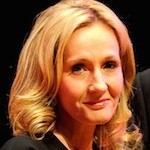 Jun 26, 2015
An exciting announcement has been made by J.K. Rowling via Twitter, confirming the opening of Harry Potter and the Cursed Child,  a play set to open in London's West End at the Palace Theatre next year. This announcement was made on the 18th anniversary of the publication of Harry Potter and The Philosopher's Stone.
The tweets confirm that the play will not be a prequel, and will be 'a real treat for fans' as a new story that was made exclusively for the stage. The writer, Jack Thorne, and director, John Tiffany (Tony award writer of Once) and J.K. Rowling herself will collaborate to produce the play, the content of which the Daily Mail previously reported on:
'The Cursed Child delves into what happened to Harry's parents — Lily Evans Potter and James Potter — before they were killed by Lord Voldemort, forcing an infant Harry to be raised in miserable circumstances by his mother's sister, Petunia, her horrid husband Vernon and their spoiled son Dudley.'
J.K. Rowling's official Facebook page reported:
'Produced by Sonia Friedman Productions, Colin Callender's Playground Entertainment and Harry Potter Theatrical Productions, tickets for 'Harry Potter and the Cursed Child' will go on public sale this autumn, details of which will be announced summer 2015 and will be shared on the official website, in late July.'
To keep updated on ticket information, you can subscribe to an emailing list on the play's official website, www.harrypottertheplaylondon.com.
More news to come! See Rowling's tweets below: