Alan Rickman talks his career, new movie in New Interviews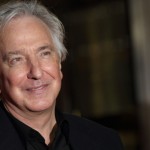 Jun 27, 2015
A Little Chaos was released limitedly in the U.S. yesterday. In two new interviews, Alan Rickman (Severus Snape) talks about his new film, his career, and what he is up to next. In the recent interview with Buzz Feed, Rickman talked of "strong brilliant women" (specifically Kate Winslet and J.K. Rowling) and revealed how little he knew of what was going on in the world of Potter today: Fantastist Beasts, what's that? BuzzFeed reports:
"You directed and acted in the film. What were some of the obstacles you faced juggling both jobs?

I wasn't acting in it too much. So that was the first clever decision I made. I'm not in it too much, so I don't need to worry about it overly. I think when you're making a film, especially when a lot of it is outdoors and you're in England, you're staring at the sky a lot. And then you're staring at your watch a lot. And then there are a lot of other people looking in their wallets a lot. So it's the usual thing. They are the obstacles, and they're the ones you need to jump over all the time.
Was there a time in your career when you had a major setback? What pushed you through?
You could ask any actor about their early days, and I think you know — if you decide you're going to do it, and then you train and you've committed — you know there are going to be long periods out of work. And I wasn't different than anybody else. I know there are some lucky young actors now, they get made a star in a minute, and you worry a little for the moment when that gets snatched away. It's a different world now. I don't remember it now, but I'm sure the difficult moments made me stronger, or at least that's what I've trained myself to think.

How has your relationship with Kate Winslet changed, and grown, since you filmed Sense and Sensibility together 20 years ago?

She's still the same great human being, but there's a lot of life history with her now, and three children. She was 19 — you can write the story really: There's a 19-year-old girl and here's a 40-year-old woman with three children and all sorts of dear-diary entries. I am the beneficiary of having a thinking, feeling, strong-minded, brilliant woman on the set. All of those things were true then, but she was 19 years old.

We are very excited about J.K. Rowling's new movieThe Fantastic Beasts–

See, I didn't even know what it was called!

What do you think she'll bring to the table as a screenwriter?

Is she going to write the screenplay? I didn't know that. Talk about smart, strong-minded, brilliant women — there's another one, and she'll make damn sure it's worth waiting for."
Rickman goes on to discuss being recognized in public (or not!) after being in the Harry Potter spotlight, as well as looking back on all that he has done in his career. The rest of the article can be read here.