Bonnie Wright's extensive interview with "Suitcase"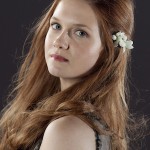 Jul 09, 2015
Bonnie Wright (Ginny Weasley) has developed a career behind the camera, as much as she's done work in front of the camera, since growing up within the realms of Harry Potter. Recently settled in New York City, she talked at great length with Suitcase magazine about her passions for acting, writing, and directing.
Growing up on the set of Harry Potter (beginning at age ten in Philosopher's Stone, finishing the series ten years later at the age of 20), helped sparked Bonnie's imagination and interest in film–all parts, infront and behind the camera. She has since moved on from Ginny, and carved her own path independent of the series. She has attended film school to get a three-year degree, and is gaining experience through her creation and adaptations of short films, hoping to write and direct a full-length featured film soon. Like her Harry Potter co-star, Evanna Lynch, Bonnie has worked a lot within the independent film industry. Suitcase reports:
Bonnie describes her consistent effort "to set that self-discipline" – making sure that each day reflects a proper day's work. Currently in the process of writing her first feature film (she has already written and directed a short film) Bonnie's new, self-appointed gig is a whole different ballgame from learning lines in a trailer. She is keen to emphasise the dedication and self-regulation required to create her own work.

That said, her decade spent in the Harry Potter franchise has not been a bad education. Working with some of the greatest British talent, including world-famous actors, directors and producers, has afforded Bonnie a solid understanding of what goes into creating a great film.

"Because I started acting at such a young age," she explains, "I had no idea where the journey was going to take me. As a curious kid, on all the Harry Potter films, I became interested in filmmaking in its entirety."

In the evolution of her craft, Bonnie hasn't limited herself to one side of the camera. When I ask her which part of the world of cinema she prefers, she explains how intertwined acting and directing really are.

"Often, I'll be writing and the idea of walking onto a film set in front of the camera throws me. And then sometimes the other way around, when I've been acting I'll be like 'Oh God, I don't want to go back to my desk to write!' But they inform each other so much. It is a collaborative medium and the boundaries between jobs often cross. Especially when you're an actor and you're working so much with the director. For me, that's the funnest thing about being an actress: working with the director and working with their vision."

She goes on to emphasise the importance of synergy when creating a successful film. "If you're not a team player in the film industry it becomes very hard to share your message – and what's the point of sabotaging your own work? It's interesting to see the methods of different people, in the same way that it's fascinating to watch another actor and see how they run a scene."

"Anyone can write 10 pages," she says jokingly. "Writing a huge script that has so much to do with plot, specific screenwriting techniques and devices is a whole new world to me. Even at film school all the work we did was short-form. We obviously studied feature film, but we never got to make one over the course of a three-year degree, so this has been really interesting."

With this on the table, she goes on to discuss the culture of self-promotion that's so ubiquitous in the United States – certainly not a quality that the average self-deprecating Brit possesses.

"When you're having to speak up for your own work, you have to sell yourself in a way. Especially when every project is a new project, you're having to find collaborators, you're having to pitch your project all the time."

She helped promote the Global Citizen Festival in Washington DC back in April this year and she continues to work with Oxfam, an organisation that is dear to her heart.

"I first went on a trip with them to Senegal when they were doing a whole push about the food crisis in West Africa," she recalls. "They decided they wanted to push the story before it got to a level that would be a hundred times more expensive to save. So I travelled with them and through that trip they asked me to come on board long-term as an ambassador."

What's the craziest, most exciting thing that's happened as a result of Harry Potter stardom?

"I got to meet Destiny's Child when they were still together and dance on stage with them. That was pretty fun."
To read more of this extensive interview, and learn more about Bonnie's charity work and filmmaking, visit Suitcase.