UPDATE: How much it would cost to go to Hogwarts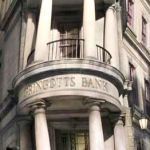 Jul 15, 2015
UPDATE: J.K. Rowling confirmed on Twitter that Hogwarts is free. Mic has apologized for the error.  The actual cost of a Hogwarts education is the total cost of the school supply list, or $1,o31 for a first year.
@emmalineonline1 @micnews There's no tuition fee! The Ministry of Magic covers the cost of all magical education!

— J.K. Rowling (@jk_rowling) July 17, 2015
See more here.
Experts have calculated the price tag to attend a British prep school for witches and wizards. How much would it cost to attend Hogwarts? $43, 301 per year–about the same price as attending a private university.
Of course, Harry was never worried about this–he seemed to have endless amounts of Galleons in his vault at Gringotts. However, at this price tag, to send all seven Weasley children to school for seven years each would cost the family over $2 million. If Hogwarts was tuition free, it would be a different story–school supplies are still pretty costly, though, costing over $1,000 a year. The Times reports:
Even the Malfoys would struggle to afford this price.

Thanks to the diligent research of Mic's Kevin O'Keeffe, we now know Harry Potter's alma mater costs about $43,301 per year.

O'Keefe gets this figure by combining estimates of the school's price (including some of Time's own reporting) with the cost of essential back-to-wizarding-school items like a wand ($42), owl ($140), and cauldron ($105).

The total charge for those necessities? O'Keeffe uses J.K. Rowling'sPottermore website to peg the damage at $1,031, which when added to the school's price comes out to his total figure. Aspiring wizards and witches should check out the original post for a full cost breakdown.

We'll have to assume Hogwarts has a generous scholarship program, because Mic's figure would be a huge amount of money, even for the Draco Malfoys of the world. Remember, Hogwarts lasts seven years, meaning the total sticker price for wizard training comes out to $303,107.
The original article from Mic gives the cost breakdown, saying: 
Rowling once said one Galleon converts to "about five pounds." Thanks to some sharp work by the team over at the Harry Potter fan wiki, we know that, converted to American currency, a Galleon would value at approximately seven dollars, and that will be our primary measurement.

The hardest thing to figure out is tuition. Some insist tuition at Hogwarts is free, though the books are unclear either way. For the sake of this exercise, we'll say that tuition must cost something. Multiple figures place the pricearound $42,000; we'll take that number at face value.

A first-year Hogwarts student is given a supply list for what to buy in Diagon Alley. Thanks to prices primarily found on Pottermore, Rowling's expansion of the Potter universe, we can calculate the price of each individual item.

Some are easy finds, like the price of Harry's wand (seven galleons, $42) and a cauldron (15 galleons, $105). Others are cheap gets, like the $21 brass scales and glass phials (each 3 galleons), or the $35 telescope (5 galleons).

For the books, we have to use Pottermore's inventory listing, calculating a first-year's reading list to 13 galleons, or $91. There's no reliable data about clothing, so we'll use a Visually estimate based on comparable items on Amazon to price it at $576. Finally, while other owls' prices are listed on Pottermore, Harry's rare snowy owl isn't priced. Judging by the fact that it seems quite a bit rarer than the 10- and 15-galleon birds, we'll estimate it at 20 galleons, or $140.

We have to assume that if Hogwarts does charge tuition, it offers some kind of financial aid to let all these students attend. Maybe a special program for Muggles to attend, or a legacy rate for the Weasleys? Without it, wizards-in-training and their parents would be left shouting "Accio scholarship."
Please visit the original article to take a closer look at the detailed diagrams and figures.