Happy Birthday, Neville!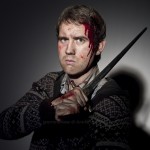 Jul 30, 2015
30th July marks the 35th birthday of Neville Longbottom, a character who shows that we can prove ourselves to have more strength and courage than we could ever know.
At first appearance, Neville was an unexpected Gryffindor, and his first few years at Hogwarts were riddled with mishaps. He made his entrance as a clumsy boy looking for Trevor – his toad – on the Hogwarts Express.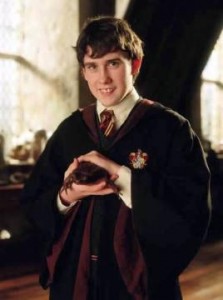 He was almost a hatstall at the Sorting Ceremony (pleading with the Sorting Hat to be in Hufflepuff), he melted Seamus Finnigan's cauldron in his first Potions class, and broke his wrist at his first flying lesson. His luck never seemed to improve, as he was relentlessly mocked and bullied by Draco Malfoy (who pranked him with the Leg-Locker curse in their second term). Even in his first year, however, Neville showed us his courageous side, as he challenged Malfoy (and then proceeded to single-handedly take on Crabbe and Goyle) at the Gryffindor vs Hufflepuff match:
'Neville went bright red but turned in his seat to face Malfoy.

"I'm worth twelve of you, Malfoy," he stammered.

Malfoy, Grabbe and Goyle howled with laughter, but Ron, still not daring to take his eyes from the game, said, "You tell him, Neville." '
The Chamber of Secrets saw Neville fearing for his life, facing the prospect of a basilisk in Hogwarts. Though pure-blood, he feared that his squib-like tendencies would lead to him being a target. In one of Gilderoy Lockhart's lessons he is hung up on a chandelier by his ears, and utters what came to be his most famous quote:
'Why is it always me?'
In his third year, Neville revealed in Remus Lupin's Defence Against the Dark Arts lesson on boggarts that his worst fear was Professor Snape, leading into the great scene in which boggart-Snape emerges wearing Neville's grandmother's clothes.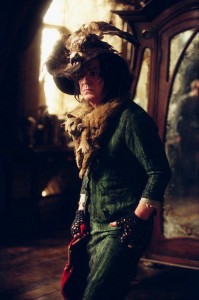 He attended the Yule Ball with Ginny Weasley in his fourth year, after being declined by Hermione Granger.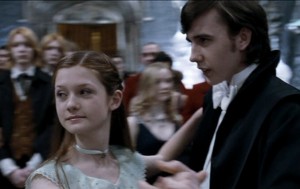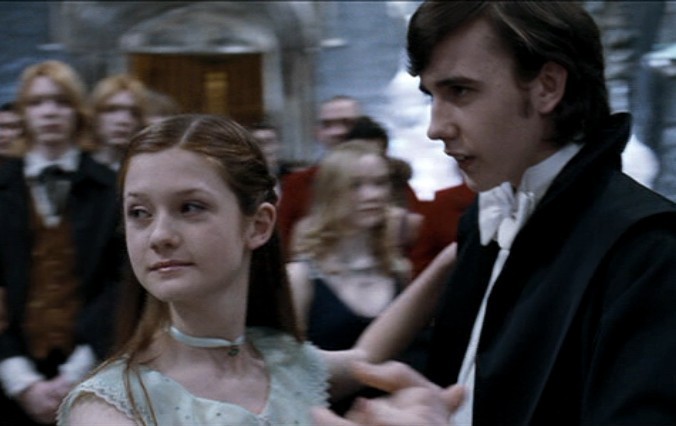 Neville was a devoted member of Dumbledore's Army in his fifth year, being one of the first to sign up. After we learned that his tortured parents were being treated in St Mungo's, and that three of their torturers had escaped Azkaban, Neville improved his skills with the DA at a significant rate. He accompanied the trio to the Ministry of Magic to save Sirius Black, was captured and briefly endured the Cruciatus Curse under Bellatrix Lestrange, attempting convince Harry to hand over the prophecy. It is in The Order of the Phoenix that we learn that as both Neville and Harry were born at the end of July to parents who had escaped Voldemort three times, they were both in line to becoming the child Sybill Trelawney's prophecy spoke of, but Harry had been 'marked' as Voldemort's equal as a baby:
'The one with the power to vanquish the Dark Lord approaches… born to those who have thrice defied him, born as the seventh month dies… and the Dark Lord will mark him as his equal, but he will have power the Dark Lord knows not… and either must die at the hand of the other for neither can live while the other survives… the one with the power to vanquish the Dark Lord will be born as the seventh month dies'
Neville returned to Hogwarts in The Deathly Hallows, and re-started Dumbledore's Army, rebelling against the Death Eaters (specifically the brutal Carrows):
'Alecto, Amycus's sister, teaches Muggle Studies, which is compulsory for everyone. We've all got to listen to her explain how Muggles are like animals, stupid and dirty, and how they drive wizards into hiding by being vicious toward them, and how the natural order is being reestablished. I got this one ((indicates to a large gash on his cheek)) for asking her how much Muggle blood she and her brother have got.'
After being physically punished for his efforts, the Ministry targeted Neville's grandmother as a method of blackmailing him, however, she managed to escape capture. This led to plans to kill Neville after singling him out as ring-leader of the rebels, and then to his subsequent hiding in the Room of Requirement, a newly-turned hiding place connected to the Hog's Head and Aberforth Dumbledore.
During the Battle of Hogwarts, Neville received orders from Harry to set killing Nagini – Voldemort's horcrux – to their highest priority, which he later fulfilled due to having pulled Godric Gryffindor's sword out of the Sorting Hat. Neville's bravery in directly standing up to Voldemort and his followers not only proved him worthy of the sword, but also proved just how much of a Gryffindor he had become (and always had been!).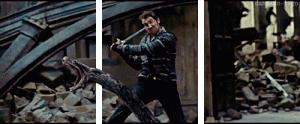 Later in life, Neville became an Auror, then Professor of Herbology at Hogwarts. He married Hannah Abbott, and they now live together above The Leaky Cauldron. Like other members of Dumbledore's Army, he has kept his enchanted D.A. coin as a badge of honour, occasionally showing impressed students.
J.K Rowling has said that Neville 'finds happiness in his grandmother's acceptance of him as a gifted wizard and as the new herbology professor at Hogwarts'. You can read more about his later life in Rita Skeeter's Daily Prophet article on Pottermore here.
Join us in wishing Neville a very happy 35th birthday!