Daniel Radcliffe Joins the Cast of Upcoming FBI Thriller 'Imperium'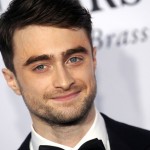 Aug 01, 2015
Deadline reports that Daniel Radcliffe has been signed to play the lead role in a new FBI thriller, Imperium, from Atomic Features and Tycor International Film Company. According to Deadline:
"Radcliffe will star as a young FBI agent who goes undercover to find and stop white supremacists trying to make a dirty bomb. It's based on the experiences of Michael German, an FBI undercover agent who spent years inside United States neo-Nazi and militia groups."
The film, which is based on real events, is set to start filming in the fall. Imperium will be the feature film directorial debut of short film director, Daniel Ragussis. The script is co-written by Michael German and Ragussis. Imperium will be produced by Ty Walker, Dennis Lee and Simon Taufique.
With Imperium added to Radcliffe's schedule, he is sure keeping busy. Later this year, Radcliffe can be seen in Fox's Frankenstein retelling, Victor Frankenstein. In addition to that, Radcliffe is currently filming Swiss Army Man, an indie comedy with Paul Dano. In 2016, Radcliffe will make an appearance on television in an upcoming BBC2 TV film Game Changer as the co-founder of the Rockstar Games company Sam Houser.