Production starts today for Fantastic Beasts!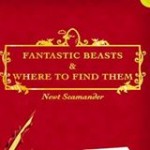 Aug 17, 2015
Today, Monday, August 17, filming production begins at Warner Bros. Studios in London for Fantastic Beasts and Where to Find Them. Yesterday Dan Fogler shared his excitement for beginning this "adventure" on his Instagram. This morning Pottermore officially tweeted that Fantastic Beasts production was to begin today, and shared an article from Businesswire.
As we know, J.K. Rowling is making her screen writing debut, and David Yates is continuing his legacy of directing Harry Potter-based films. Businesswire reviews the cast we know so far, and most of the crew. There are many very talented people working behind the scenes, as well as in front of the camera, with J.K. Rowling and David Yates. The article states:
Principal photography has begun on Warner Bros. Pictures' highly anticipated feature "Fantastic Beasts and Where to Find Them."

Filming started today, August 17, at Warner Bros. Studios, Leavesden, under the direction of David Yates, who helmed the last four "Harry Potter" feature films.

Academy Award winner Eddie Redmayne ("The Theory of Everything") stars as Newt Scamander…

"Fantastic Beasts and Where to Find Them" also stars Katherine Waterston ("Inherent Vice") as Tina; Alison Sudol ("Dig," "Transparent") as Tina's sister, Queenie; Tony Award winner Dan Fogler ("The 25th Annual Putnam County Spelling Bee") as Jacob; Ezra Miller ("Trainwreck") as Credence; two-time Oscar nominee Samantha Morton ("In America," "Sweet and Lowdown") as Mary Lou; Jenn Murray ("Brooklyn") as Chastity; young newcomer Faith Wood-Blagrove as Modesty; and Colin Farrell ("True Detective") as Graves.

The film is being produced by David Heyman, producer of all eight of the blockbuster "Harry Potter" features; J.K. Rowling; Steve Kloves; and Lionel Wigram.

Collaborating with Yates behind the scenes are: Oscar-winning director of photography Philippe Rousselot ("A River Runs Through It," the "Sherlock Holmes" movies), three-time Oscar-winning production designer Stuart Craig ("The English Patient," "Dangerous Liaisons," "Gandhi," the "Harry Potter" films), three-time Oscar-winning costume designer Colleen Atwood ("Chicago," "Memoirs of a Geisha," "Alice in Wonderland"), Oscar-winning visual effects supervisor Tim Burke ("Gladiator," the "Harry Potter" films), Oscar-nominated visual effects supervisor Christian Manz ("Harry Potter and the Deathly Hallows – Part 1"), and Yates' longtime editor Mark Day (the last four "Harry Potter" films).
The first installment of at least three Fantastic Beast films is set to be released November 18, 2016. Perhaps Warner Bros. will make their own official announcement today and reveal more of the cast and a description of their roles.