Pottermore Announces Final House Cup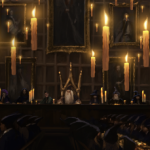 Aug 21, 2015
Pottermore, J.K. Rowling's official website for all things Harry Potter books, made a startling announcement on Facebook.  The final House Cup for Pottermore members will be awarded on September 9.
This is the latest in a series of changes to the Pottermore website that began in April 2015, with the closure of Pottermore Insider and the end of chat, status updates, and drawings. While some of these changes were made for child safety reasons, the end of the House Cup is completely unexpected.
Many fans of Pottermore are understandably upset and venting their frustration in Facebook comments.  They are concerned that the end of the House Cup will mean the end of the friendly competition and house rivalry in Pottermore.  They don't understand why Pottermore is encouraging anyone to compete for the final House Cup, when it isn't going to continue.  Others think Pottermore has done nothing but improve, and there is something good coming soon. (Is there finally going to be a Pottermore app?)
So, we will keep watching the Pottermore Facebook page, and we will wait for September 9.