UPDATE: Tom Felton, Rupert Grint and the Phelps twins attend Fan Expo Canada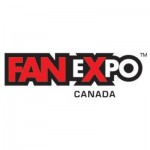 Sep 07, 2015
Fan Expo Canada 2015 took place over the weekend, and details of each panel are slowly being revealed.
Saturday marked the day of the Hogwarts Reunion panel – featuring Tom Felton, Rupert Grint and James and Oliver Phelps – and on Sunday the Harry Potter cast members took part in autograph and photo sessions. The convention was the first fan event that Rupert Grint had attended.
In his own panel on Friday, Tom spoke of his visit to Universal Studios in Japan. Tribute Canada's article reported:
'He mentioned that he did try the butter beer and found it very sweet and felt like he was drinking a thousand calories. He told fans he enjoyed playing Draco, saying, "There's something about playing a slimy little git that's fun."

He said that Rupert Grint (Ron) often got a case of the giggles while filming. He spoke of the transition from Richard Harris to Michael Gambon as Dumbledore, saying it was a smooth one. While Harris had a powerful voice, Gambon had everyone laughing and trying to keep the mood light. Fishing is still a big hobby for Felton, and he has fished by the St. Lawrence River and even in Vancouver. He expressed his love for Canada.'
You can read more about the various panels in Tribute's article here.
SnitchSeeker also attended the Hogwarts Reunion panel event on Saturday.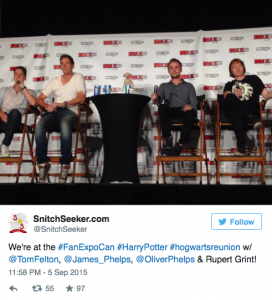 Their article reported that the actors talked about various topics, such as their best and worst memories and characters, and Tom Felton spoke about a conversation with J.K. Rowling regarding Fantastic Beasts and Where to Find Them:
'Tom Felton revealed that he spoke to J.K. Rowling about two months ago and tried to get information about Fantastic Beasts and Where to Find Them, and while she wouldn't tell him much, she joked that he and other Harry Potter actors would have background roles.'
SnitchSeeker also gave a list detailing main points from the Hogwarts Reunion panel, which can be read at the end of their article here.  The panel sounded brilliant, and one of our favourite moments to read about in SnitchSeeker's article was:
'Oliver said his least favourite dead character was Hedwig because on set of the second movie there was a evil owl in the car'.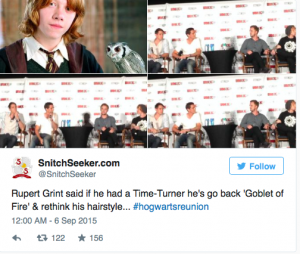 Videos of the panels will reportedly be released by SnitchSeeker soon, so keep posted at their website here!
Ice Cream Man (infamous Rupert Grint news source) were also reporting on the event based on visitor experiences, and gave a list of quotes from the panel in their article:
'"We grew up on those sets. We kind of became the people we are today on those sets."

"My Little Pony. A Brony. The Brony thing." – On what Rupert would cosplay

"Yeah, I'd never get rid of that. It's my prize possession." – Rupert on his ice cream van. He also mentioned he doesn't drive it around any more because ice cream men can be territorial and he doesn't want to start a turf war

"I always say Rupert as the next Bond. The world is ready for a ginger Bond." – From Tom'
Ice Cream Man also published a gallery of photos from the event, featuring the four cast members with various fans. The gallery can be seen here.
Fan Expo Canada's Twitter has been flooded over the weekend with photos, videos and live tweets from panels,  you can read the ones on the Hogwarts Reunion panel below (click to expand):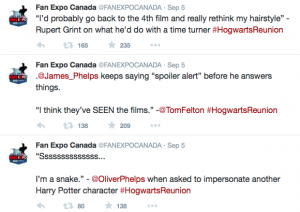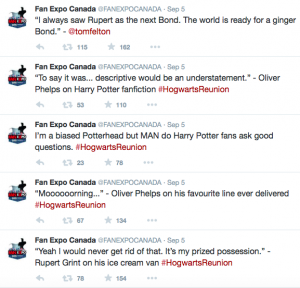 They retweeted some great photos from the event: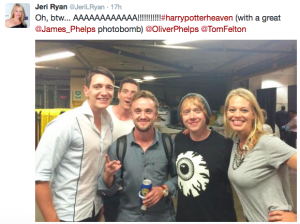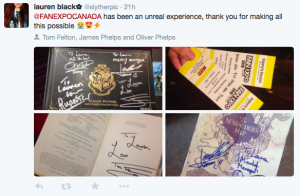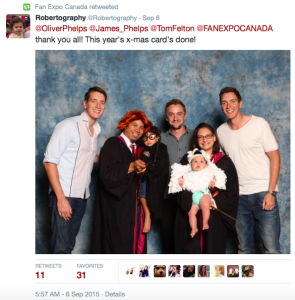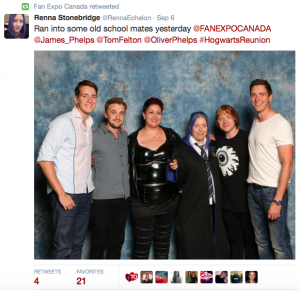 Tom, James and Oliver also tweeted their farewells and thanks to the Expo:



It certainly sounded like an amazing weekend, and we hope those of you who were lucky enough to attend had a great time!