Happy Birthday Professor Flitwick and Guy Henry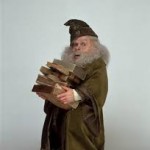 Oct 17, 2015
Today, we celebrate two Harry Potter birthdays, one a character and one an actor! They are both very real to us of course, because even though one may only exist inside of our heads, Dumbledore tells us that doesn't mean it isn't real.
Professor Filius Flitwick celebrates his birthday today. Though we are not quite sure how old he is, we do know that he has been teaching Charms at Hogwarts for generations, and will be teaching to generations to come. Flitwick, part-goblin part-wizard, is incredibly gifted at wand waving and incantations, and played a vital role in the Battle of Hogwarts.
Having survived the war, protecting Hogwarts as his home, Flitwick went on living the quiet life of a professor. He continues to enlighten young minds–helping both the Hermione Grangers and the Seamus Finnigans of his classes. He is an expert in his field, revered by all, including the likes of Dumbledore.
Guy Henry also celebrates his 55th birthday today. Guy Henry is known in the Harry Potter series as Pius Thickness–the poor wizarding official made Prime Minister by Old Voldy, who was ultimately killed.
Please join us in wishing these two a very happy birthday!