On "Getting to See" Cursed Child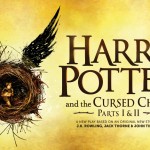 Oct 23, 2015
UPDATE: See below. Read Melissa. Then scroll down for the Pottermore response.
All was well.
Yeah, it was. But it isn't now! Because in the 19-years-later universe of Harry Potter and the Cursed Child, Albus Severus is clearly about to have some troubles.
In the same reeling, excited mania that follows any sort of Harry Potter announcement, never mind the one that says we have an eighth story to look forward to, the same questions are hitting us here at Leaky, over and over and over:
But how will I get to see it?
A book gets published worldwide. A book is relatively cheap. A book is mass produced and translated and creates a common text. And fans are asking the very fair question of how the immense global demand will be sated when ticket prices for a single consumption is many times what one pays for a book; when the action is limited to London and a thousand or so lucky viewers each performance; when we won't have the chance to talk about it together, digest it together, to do what we have done with Harry Potter for nearly 20 years, together.
Plays, to be obnoxiously obvious, are very different media than books, and our experience of Harry Potter related content is so closely tied to the book experience – even when that book experience comes in the form of a filmed version – that it's hard to understand how a limited, expensive experience could be fair for the average fan who lives thousands upon thousands of miles away from something they want so desperately to see —and who doesn't have the means to change that.
As a lifelong theater fan, I want to only assert my excitement that Harry Potter is moving onto the floorboards. However, it would be hard not to acknowledge how easy it is for someone like me to say that, having grown up and living in New York City, where theater is everywhere.
Fans: It's understandable if you are upset that you can't get to London to see this show. It's understandable to be upset that things cost what they do, and that you won't be able to gulp down Cursed Child after a midnight release party and through the weekend. I get that completely.
But don't worry.
Plays, as different media than books, have different lives as well. They don't have timed, simultaneous releases the way books do, but they do reach mass production eventually. It takes longer, but: they tour, they get produced in schools, they get printed in books, they are sometimes filmed. They take longer to get there but they live the same long lives books do.
But if you're feeling slighted because you feel as though this could have and should have been a book, that's where we disagree.
Art takes whatever form it needs to serve its story. Plays – at least good ones – are plays when they can be nothing else. To ask J.K. Rowling not to best serve her story, or not to follow the creative urge where it was naturally leading her, or force this story into a different shape because it would be easier to send out into the world, would be asking her to disservice it in some way, shape, or form. And true Harry Potter fans never want that.
A play, when done well, can change you in the course of a night. It's not meant to be huddled under a duvet with your flashlight; it's meant to be spoken out loud, performed for people, and used to create a singular moment in concert with its audience to entertain, enlighten, explore (and other E words as well).
It will get out there. More slowly than we, as Harry Potter fans, as good as we are as waiting, would ever like. But it will. When a play or a musical is done well, it will travel across oceans and across countries and into schools and into print and into a hundred thousand small auditoriums.
We can't all experience this one together, the way we're used to. But that doesn't mean we won't all get a chance.
We'll be covering the show's progression obsessively here on Leaky, of course. So as we have said so many times over the years – stay tuned!
UPDATE: Pottermore gives their first comments about the play's new plot, including a quote from J.K. Rowling lending to the discussion of why this story is a play. Reporting:
J.K. Rowling, Jack Thorne and John Tiffany said: 'It is very exciting to explore Harry's world in a brand new way through the live form of theatre. Collaborating on this story is exhilarating for all of us and we can't wait to present the eighth story at the Palace Theatre next summer.'

J.K. Rowling continued: 'The story only exists because the right group of people came together with a brilliant idea about how to present Harry Potter on stage. I'm confident that when audiences see Harry Potter and the Cursed Child they will understand why we chose to tell this story in this way.'
They give a more formal synopsis of Harry Potter and the Cursed Child, saying:
It was always difficult being Harry Potter and it isn't much easier now that he is an overworked employee of the Ministry of Magic, a husband and father of three school-age children.

While Harry grapples with a past that refuses to stay where it belongs, his youngest son Albus must struggle with the weight of a family legacy he never wanted. As past and present fuse ominously, both father and son learn the uncomfortable truth: sometimes, darkness comes from unexpected places.
The play will be in two parts, starring more than 30 actors. Casting news has yet to be released, but it will probably start shortly. As always, as Melissa said, we will be reporting it all as it hits the news world (Who will play Albus? Who could play Harry under the shadow of Daniel Radcliffe?).  Stay tuned!