Jenn Murray interview on 'An Irishman Abroad'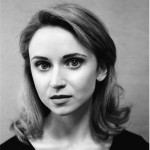 Nov 23, 2015
Fantastic Beasts actress Jenn Murray recently appeared on the podcast An Irishman Abroad, answering questions about her character and the movie:
"Jenn discusses how she landed the Fantastic Beasts and Where to Find Them role, how the job of an actor is much more than just auditioning and acting, how she handled the challenge of playing the lead role in Dorothy Mills a film in which her character had seven personalities and the performance that earned her an IFTA nomination. We also hear about the Jim Sheridan film which sparked her passion for acting.

Jenn speaks about the trials and tribulations of drama school, how she strengthened her character, learned to cope with rejection and chose to abandon social networks while also explaining her theory that we can use desire to override fear.'
Murray – like Redmayne – also mentioned the pressure of featuring in Fantastic Beasts as a result of it not being a series of books with characters and events that the actors can get to know beforehand:
'With Harry Potter, they had the novel to refer to, the people knew what was going to come up, people imagined them when they read them, but this is an original screenplay.'
Jenn discussed the intimidation and excitement of working with hugely successful actors and actresses on a large set at Leavesden Studios ("We did a read-through with all the actors in Leavesden Studios, and there were hard copies of the script, everyone was at a square table, and that was the first time I held it in my hand") and confirmed that production will end in January.
"We walked onto a big set, and Eddie Redmayne was there, and I've watched his work for years, I remember him from Tess of the d'Urbervilles, and when you look at someone's face, you want to hear their story, and he had that.

[On Samantha Morton]: I had admired her for so many years because of her choices, she was a real actress – she took risks, she was very courageous."
Brooklyn – in cinemas now – features Jenn alongside Julie Walters (Mrs Weasley), Jim Broadbent (Professor Slughorn) and Domhnall Gleeson (Bill Weasley).
Murray will be portraying the character 'Chastity' in Fantastic Beasts And Where to Find Them – the first instalment of which is released November 18th 2016.
Listen to the whole podcast here!