Happy Birthday, Bill Weasley!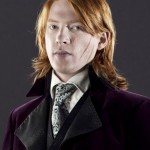 Nov 29, 2015
Today marks William Arthur "Bill" Weasley's 45th birthday. Bill is the eldest of Molly and Arthur Weasley's children, husband to Fleur Delacour, and father to Victoire, Dominique, and Louis Weasley.
Described by Harry as "cool," Bill is a known for being brave and having a penchant for adventure. After graduating from Hogwarts, Bill went to Egypt to work as a curse-breaker for Gringotts; however, after a few years, he returned to England to join the Order of the Phoenix since the threat of Lord Voldemort's return was imminent. It was during his time with the Order that he met his future wife, Fleur.
During the battle of the Astronomy Tower, Bill was gravely injured by werewolf Fenrir Greyback whilst trying to fend off the attacking Death Eaters. While he was spared Greyback's fate, he did acquire distinctive scars on his face from Greyback's claws, and he developed wolf-like tendencies, such as a liking for rare meat.
A year after they met, Bill and Fleur married, but some very unwelcome wedding crashers came in the form of Death Eaters after the fall of the Ministry of Magic. Shortly afterwards, they moved to Shell Cottage, which served as a safe haven for Harry, Ron, Hermione, Luna, Dobby, Mr. Ollivander, and Griphook after their great escape from Malfoy Manor.
Bill fought in the Battle of Hogwarts with the rest of his family, and survived. He went on to have three children with Fleur.
May he have a peaceful birthday with his family, and perhaps some rare steaks.