EXCLUSIVE: A Visit with Mina and Lima at the HP Graphic Art Exhibition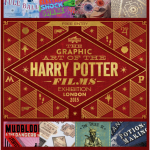 Dec 04, 2015
Leaky was honored with the opportunity to talk with the wonderful Graphic Art designers of the Harry Potter films, Mira Mina and Eduardo Lima, at the Graphic Art of the Harry Potter Films Exhibition.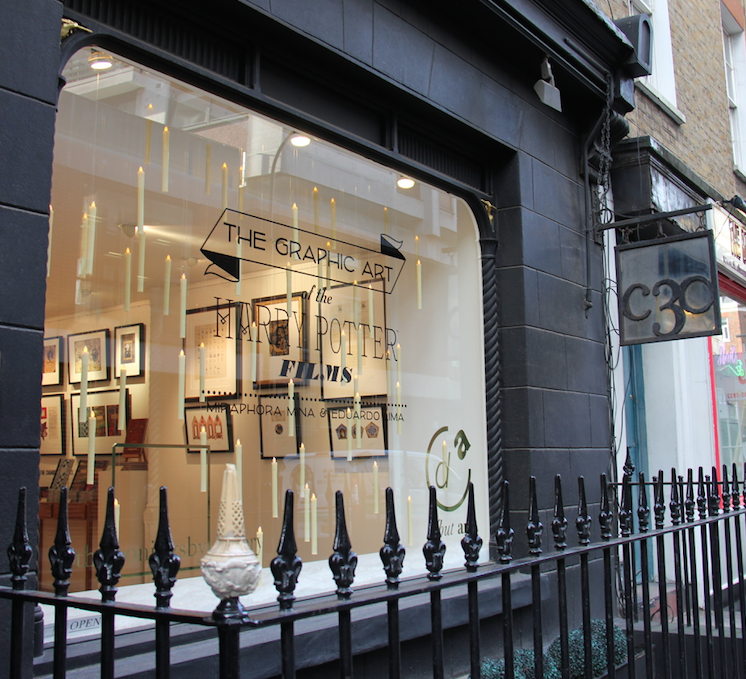 Hidden away in a small gallery off of Tottenham St., only set apart from the other shop windows by it's floating candles, the exhibition itself was breath taking–one of the few opportunities fans have to be so up close and personal with the materials used to make our favorite films–show casing 83 of the thousands graphic art pieces MinaLima designed. It is a magical experience for any Harry Potter fan, that takes on an even more surreal feel when the two geniuses behind the artwork enter the gallery. One cannot resist sneaking up to them to ask a few questions, beginning with how these select few pieces chosen.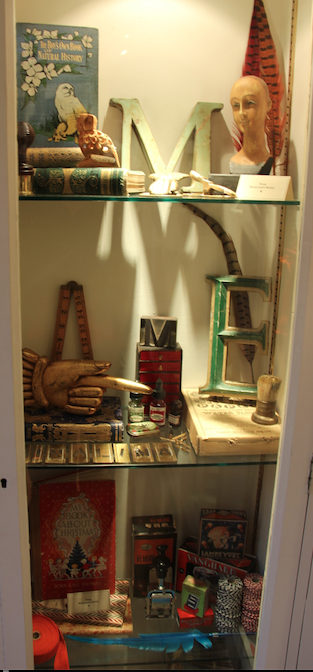 "We have curated lots of stuff. But there is stuff that doesn't warrant being presented like this," Mira said.
"For example, the print with Slughorn's potion label. We designed loads and loads, but that one was the best," Eduardo said.
"We selected them like the X-Factor. 'You're a no go, sorry.' Dumbledore's memories, the Weasley Wheezes stuff, there were hundreds of labels in that shop, but most of those were just put together on set. We tried to choose the ones that mattered most to design, the most thinking."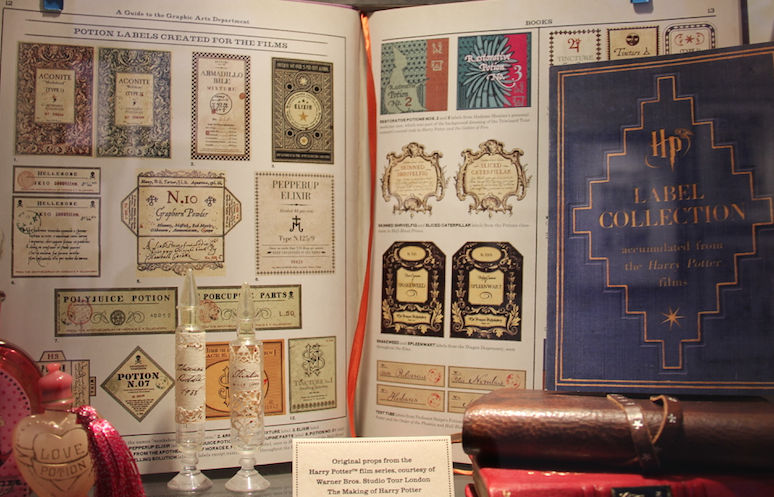 When asked it the designs they enjoyed creating the most were the ones that required the more thinking, Eduardo and Mira took a moment and then agreed.
"I suppose so," Mira looked at Eduard, who nodded. "Yeah. We never really thought about it. The process is quite intuitive for us. Though, that does't mean it's easy! I just never really think what the process is, it just sort of happens."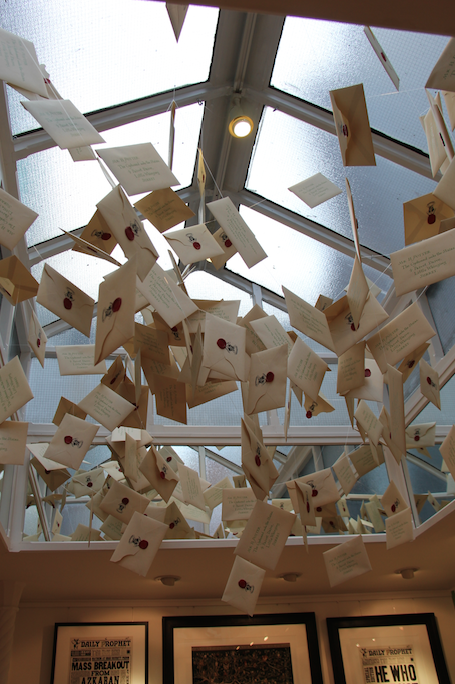 Many of those apart of the Harry Potter series have felt the pressure of living up to the expectations for such a phenomenon. Eddie Redmayne has mentioned feeling such weight joining the Potter universe as Newt Scamander. But the same pressure did not seem to have an effect on that design process.
"It was big but it was all very smooth." Eduardo said.
"It was a big production, with lots of time and lots of money. The things you feel pressured with in film is when you don't have time to do things really nicely, and that's when it is frustrating." Mira explained.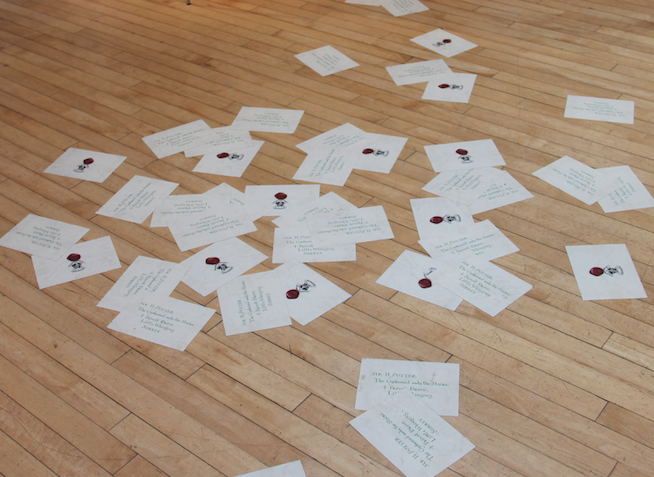 "We were there, as well, and for 10 years. Each year became a little bit smoother," Eduardo said. "It was the same people. We had the same art department, the same producers, and the last four with the same director. That helped."
Walking around the gallery, I was asked what piece was my favorite out of the 83, and I couldn't choose. I asked Mira and Eduardo, out of the thousands of designs they created, if they had any pieces that were especially near and dear to their heats:
"I always say that my favorite thing to design was the Daily Prophet," Eduardo said."All of it was brilliant. And the Marauder's Map."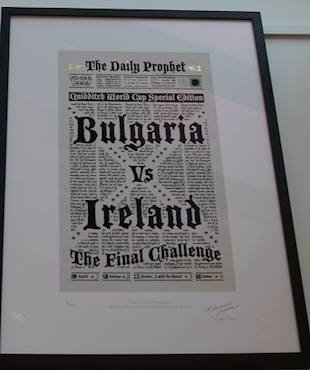 "It's kind of a bit mean if we say that because they're like our babies, and it would be mean to say one is better than the other," Mira added, with a smile.
"Especially now in a situation like this [the Exhibition]. Years have gone by, you step back, and look back in. Everything looks nicer when you do that. When you put it away and revisit it later, it has a new life, a new energy. Those two pieces [the Daily Profit and the Marauder's Map], it is because of the relationship we had with them. When we were working and they kept coming back. The Marauder's Map came back in 4 films. It had to have new bits of architecture to reflect the movie it was in. It was very organic, very alive, it just kept growing. So did the newspaper."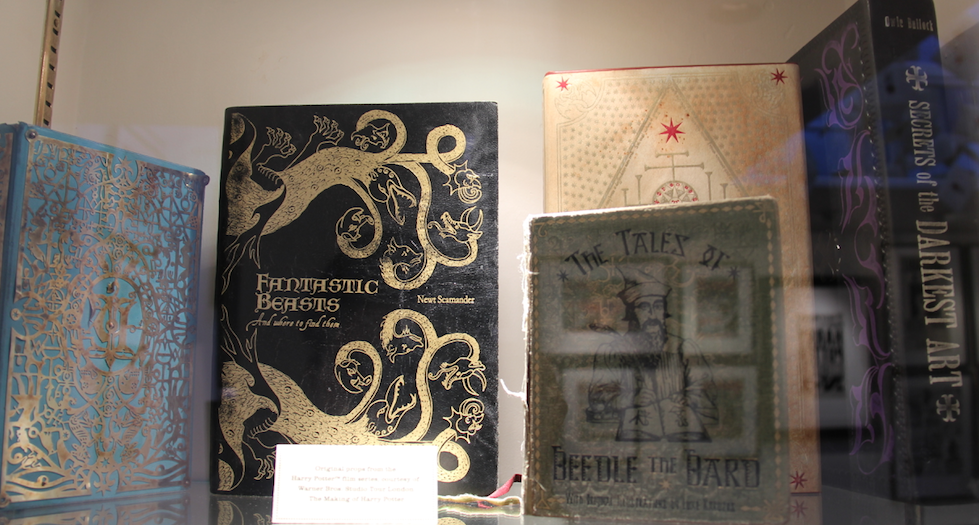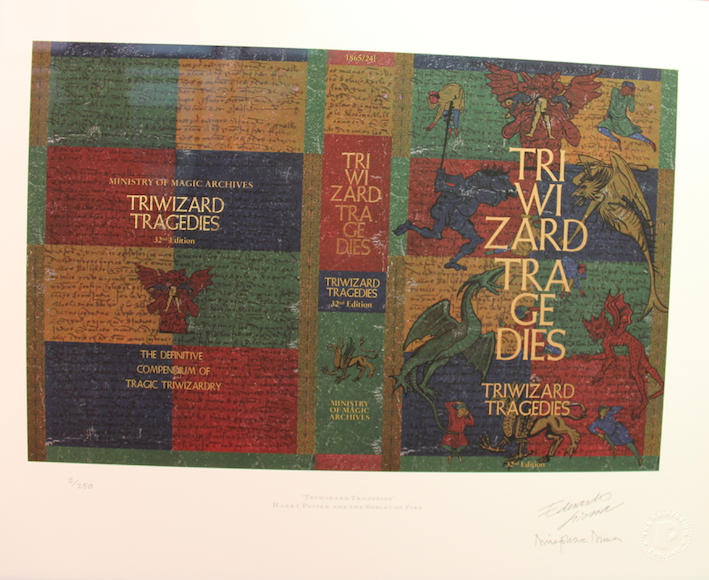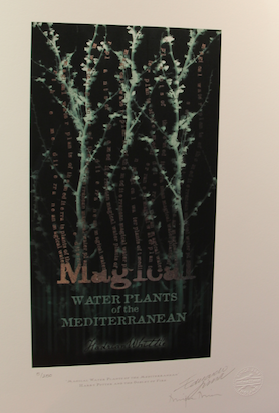 It is tough to pick favorites. Both Mira and Eduardo also expressed love for all of the Weasley Wizard Wheezes, and all of Hermione's beautiful books that are hardly ever seen as she keeps them in her bag. The book covers are gorgeous (a few are pictured above), and worth a trip to the Coningsby Gallery in-and-of-themselves.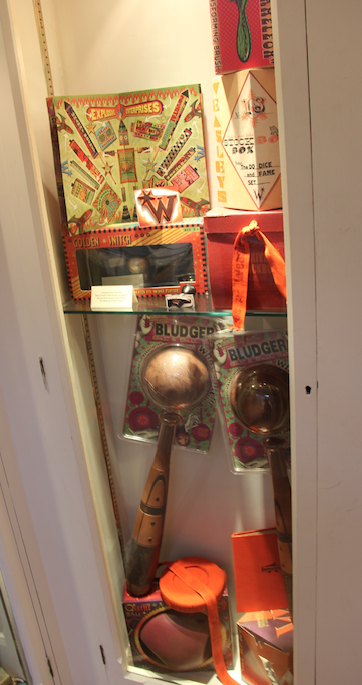 Harry Potter was the longest, largest project Mina Lima has had. Spending a long time on a film would be spending a year on a set, ten years is unheard of.
We have been told that there is unlimited amount of Fantastic Beats films planned–though, almost definitely three to start with. Having just arrived at the gallery, getting off work on the Fantastic Beasts set, which is set 70 years before Harry and feels like a different project, I asked how many years they expected to work in the Potter universe with the spin-off films, if Fantastic Beasts was going to be just as big.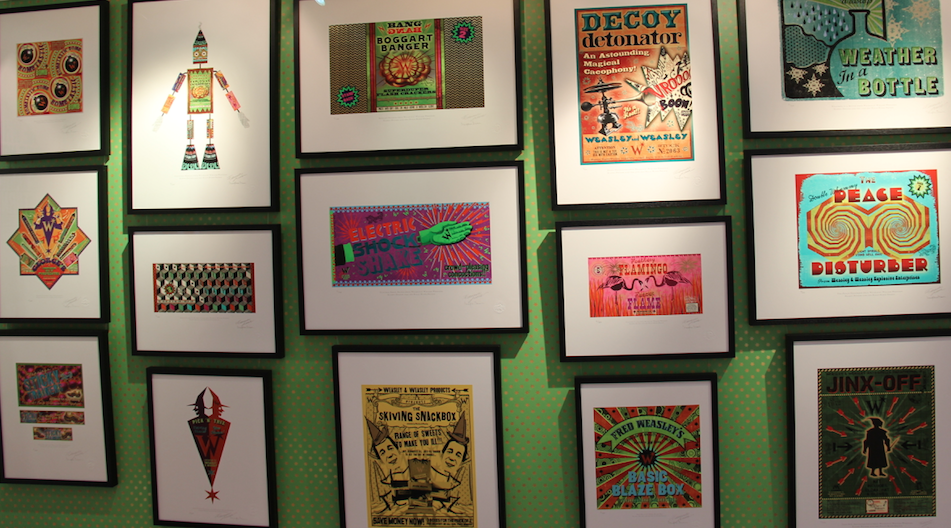 "No idea, literally no idea," Mira said. "I'm not even covering anything up now, we really don't know anything about it."
"It was easier knowing with the books, having only the seven books," Eduardo added.
"But even then, when we started there were only two books out," Mira said.
Even with seven books being specifically planned, Mira added back in the late 1990's, they had no idea how well the films were going to do, or if they didn't know if there would be another film. Fantastic Beasts is only a screen play, not adapted from a book, Mira agreed that creating the visuals and the graphic design for Fantastic Beasts was a bit more challenging.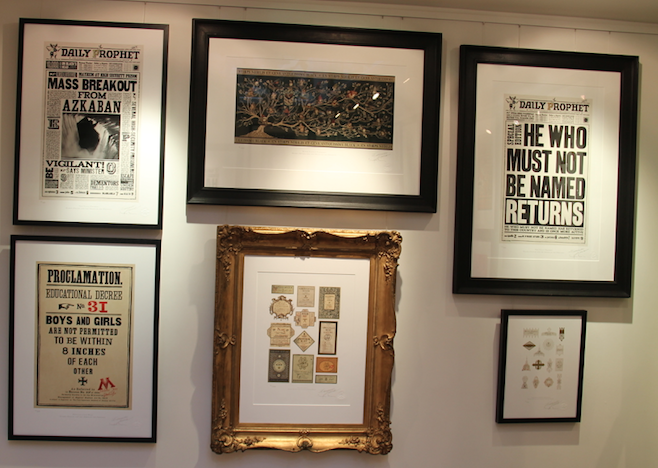 "When you are creating, there is no back story you can really turn to, which was really great in Harry Potter. Occasionally we have to ask Jo Rowling [for input]," Mira said.
"Even with the Harry Potter books, were not that specific of detail," Eduardo said. "with the Marauder's Map she never really wrote how the map looked, she just said something about the footsteps. We are used to that now. When we are there [on set] we have Stuart Craig, David Heyman, David Yates, and we talk to them and feel out how things should be."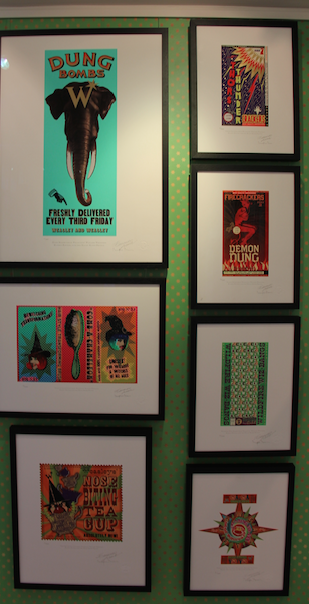 Like everyone involved with anything related to Fantastic Beasts, Mira and Edward are also on a gag order not to release any information. They could not specify if Fantastic Beasts was stylistically different or similar to Harry Potter–same universe, but years apart. They did say that the year 1926 will make at least make a difference, and they loved talking about what it was like working on a period piece from a graphic designer's perspective.
"1920's America is amazing to work with," Eduardo said, grinning with excitement.
"Not just for us, it's a great set for any designer," Mira agreed. "Even when we're doing muggle stuff it is exciting."
"No-Maj," Eduardo corrected her.
"Oh is that one out?" Mira asked. We talked about the great debate of Muggle vs. No-Maj that the release of the American term, for non-magical folk, had created. I was quizzed on how to say the term as an American, as pronunciation seemed to be the great debate on set.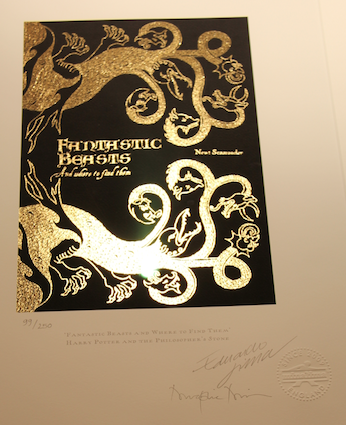 The new level of secrecy around the Potter spin-off series is something for everyone to get used to. As fans read the books before the movies came out, there was no need to build excitement or protect anyone from spoilers. It is almost as frustrating for those on set as those off set.
"I was a little annoyed when they sent memos to everyone saying you can't say anything," Eduardo sympathized with me as I struggled to ask questions that didn't pry far into Fantastic Beasts. "There is so much. It is very annoying that everyone will have to wait until next November."
These two are so excited about the films, just bursting to share it with everyone…but they can't they have to wait just like the rest of us. In the mean time, the original world of Harry Potter still has much to offer fans. While in London, one simply cannot miss a trip to the Studio Tour, or the MinaLima Exhibition, currently being shown in the the Coningsby Gallery until December 19.
For more information about the gallery exhibition, please visit the the Coningsby Gallery website. To learn more about Mira Mina, Eduardo Lima, and their amazing work, please visit their website.