Grand Opening Date Announced for The Wizarding World of Harry Potter at Universal Studios Hollywood!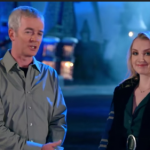 Dec 08, 2015
Universal Studios Hollywood posted a video to YouTube today to announce that the opening date for the newest Wizarding World of Harry Potter will be April 7th, 2016. Check out the whimsical video announcement below, in which Evanna Lynch, all dressed up in a Ravenclaw scarf, illuminates Hogwarts with a wand and delivers the exciting news (joined by Alan Gilmore, Art Director for the HP films).
If you'd like more information about the park (which thus far seems very similar to the Hogsmeade portion of the Orlando WWoHP), click here to visit the website.