IT IS HERE: The 1st "Fantastic Beasts" Trailer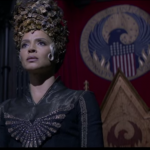 Dec 15, 2015
We finally have our first look at the Harry Potter spin-off series due to be released next November. At about 5:30 AM EST, the Fantastic Beasts twitter released the trailer, which was followed by a retweet from J.K. Rowling:
The Announcement Trailer for #FantasticBeasts is here. https://t.co/kVFBnSN3b7

— Fantastic Beasts (@FantasticBeasts) December 15, 2015
The video can be viewed on this page.
The Announcement Trailer for #FantasticBeasts is here. https://t.co/kVFBnSN3b7

— Fantastic Beasts (@FantasticBeasts) December 15, 2015
Now, as a first look, what does this video tell us? It tells us quite a bit–more than the EW articles that gave us our first bits and pieces of inside knowledge. Newt opens the trailer by repeatedly saying "Lumos Maxima." We know that at one point on his journey to re-incase the escaped Beasts, he has to venture somewhere very dark–so dark that it is not easy to cast a Lumos spell, perhaps due to dark magic.
We are introduced the MACUSA–The Magical Congress of the United States of America–and it's leader. At time marker 0:49, a woman (named Seraphina)–in an excellent headdress (pause at 49 seconds and just stare at it, it is so cool)–played by Carmen Ejogo, stands in front of a thrown-like chair, and the MACUSA seal. The seal is reminiscent of the United States seal. Though, instead of and Eagle, the MACUSA seal sports a blue Phoenix, it's wings outstretched, with an American flag for a body, and the words "Magical Congress of the United States of America" encircling it.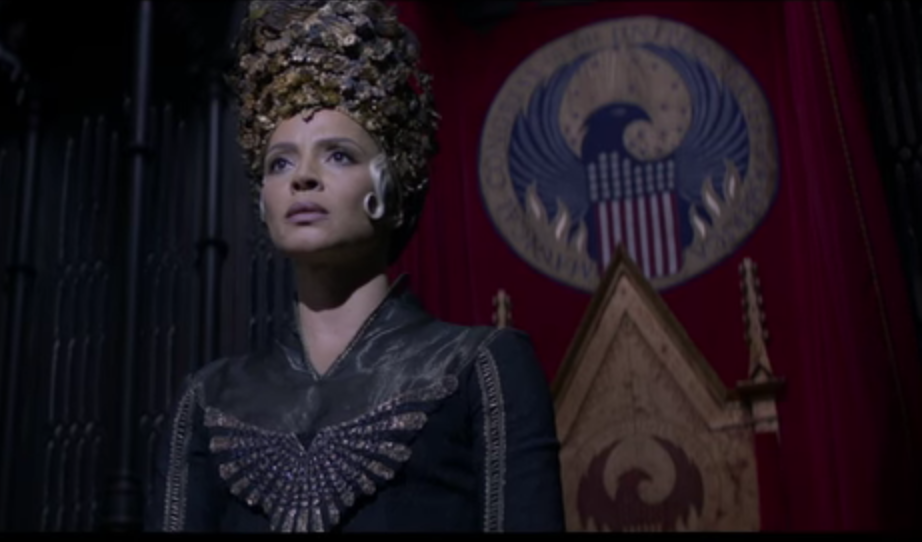 Seraphina, who stands so majestically in front of a group of people, as Tina testifies to Newts unfortunate situation, is obviously a leader. Is she just a congressional leader, or does the Wizarding World far outshine the No-Maj United States government in diversity and equality, by choosing it's (possibly first) African-American and woman president in 1926? Either way, in the 1920's, and African-American and any woman holding any high position in office is leaps and bounds ahead of the no-Maj government.
At 0:48, we see Katherine Waterston, who plays Newts future-wife, Tina Goldstein, standing and testifying in front of the MACUSA leader. She is flanked on either side by a small crowd of people–the MACUSA congress–some members are dressed more elaborately than others, leaving some to question if the MACUSA congress is made up of more than one house, like the No-Maj American Congress.. On the square space of floor she is standing on, there is a white star in the middle of a pale grey-blue circle. The star has five points, and in each of the five points lies a golden circle. What this symbolizes, I'm sure Jo will tell us later (she has all the minute details in that brilliant brain of hers).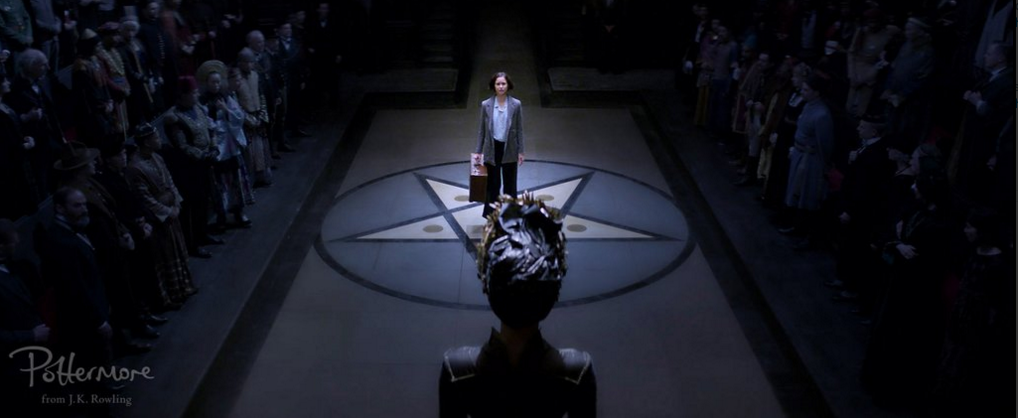 This scene opens (0:37) with Tina walking onto the Congressional floor, wearing a simple outfit (dress pants, plain dress shirt, and plain suit jacket) and holding a brief case–possibly Newt's brief case? (Pottermore says it's Newt's!)–and turning to address her spectators. Are we to get the feeling that Tina is in trouble? That this is a hostile environment? I get that feeling–she looks hesitant, nervous, and possibly scared.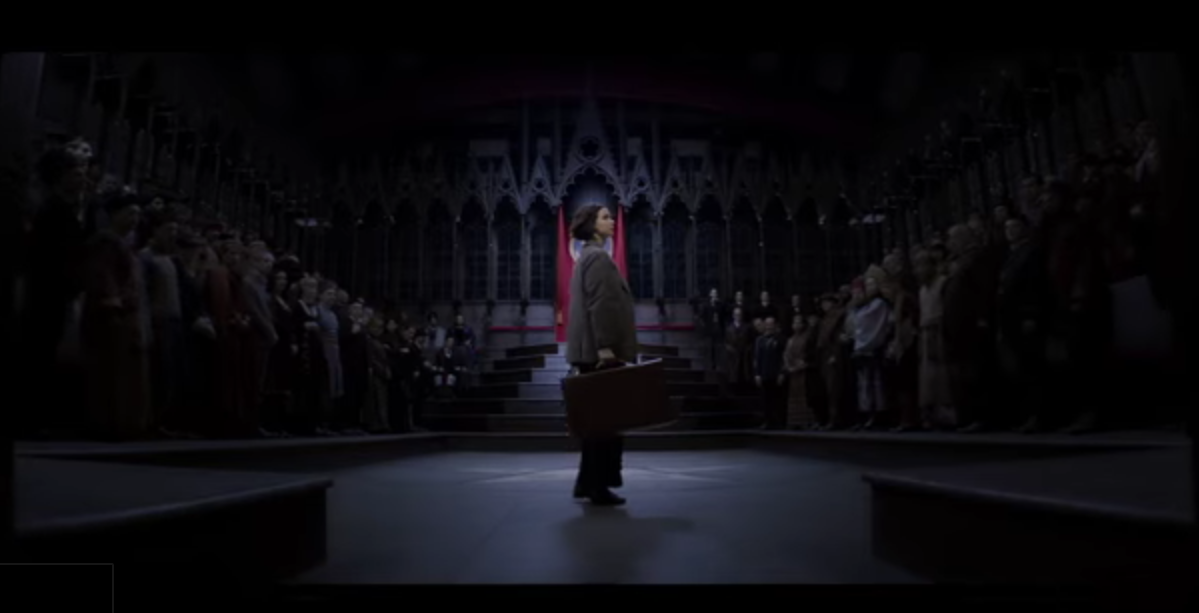 Tina's opening dialogue (0:48) tells us quite a bit. At this point, it is only the day after Newt entered NYC with a case, and the Beasts escaped. That was quick. It also explains J.K. Rowling's first cryptic tweet on the films–New Scamander only meant to stay in New York a few hours…
Market 0:57 gives us our first look at what appears to be MACUSA from the street view, as well dressed men, and someone carrying a case (as Tina narrates "a case full of magical creatures"), walk towards a white stone building, The Woolworth Building, with a sweeping gothic arch around its front door. The hand carrying the case is walking through a grandly decorated room, with marble tiled floor and well dressed passers-by. The hand carrying the case is wearing a grey suit, not Eddie/Newt's fantastic blue coat. This suggests that Newt has been separated from his magical case. WHY? HOW?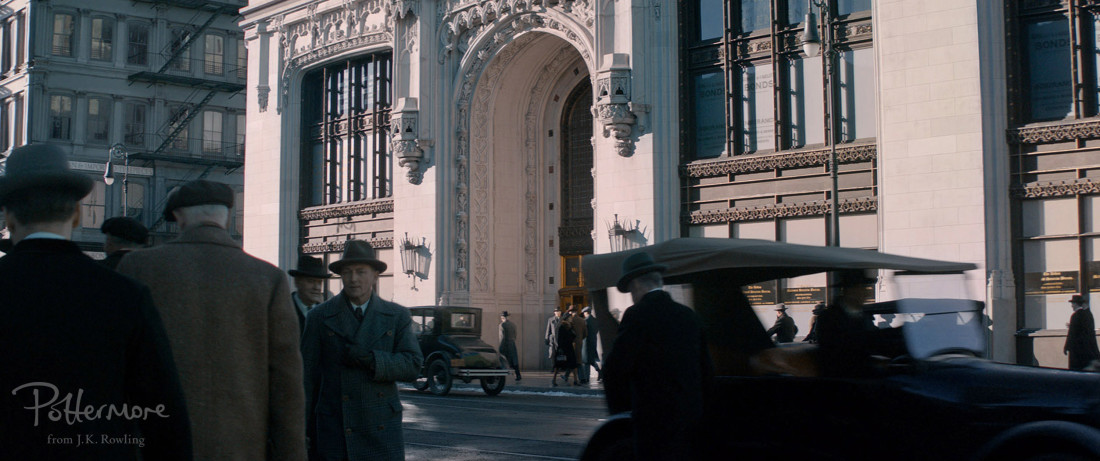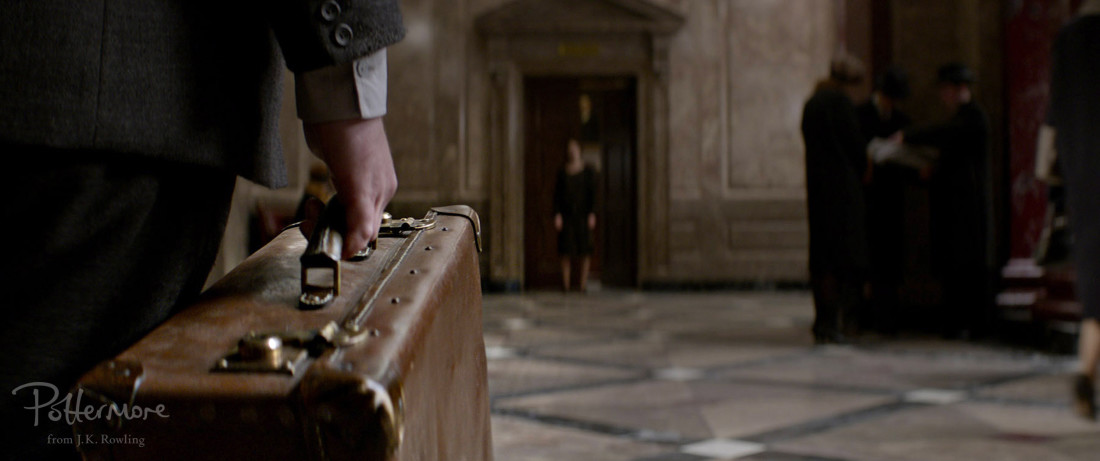 At marker 1:08, as Tina narrates "and unfortunately some have escaped," we see a professionally-dressed Graves (played by Colin Farrell)  standing in a destroyed apartment–a poor tenant apartment in New York–looking out of a massive hole in the side of the apartment building. We can only imagine what magic, and what beast, made that hole. We know that Graves plays a high ranking MACUSA official, a powerful Auror, and he is probably sent to the scene of the crime to assess the damage and how to further proceed with the matter.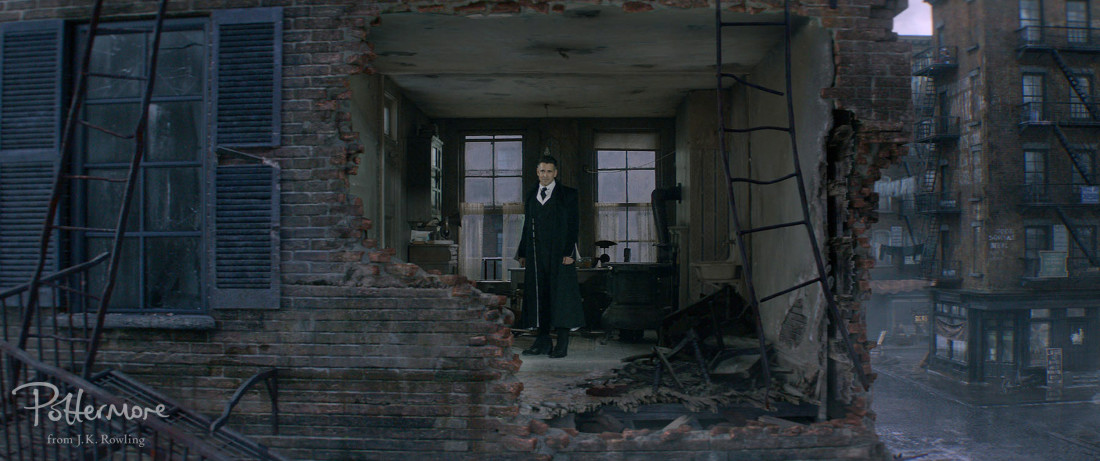 Newt had been in that apartment. At marker 1:20, we see Newt perched on a simple bed in a room that looks like it belongs in the destroyed apartment. He opens his case to check on his beasts, letting out horrid screeching and roaring. He quickly snaps it shut, but not before Tina asks "it was open," and Newt timidly responds "just a smidge."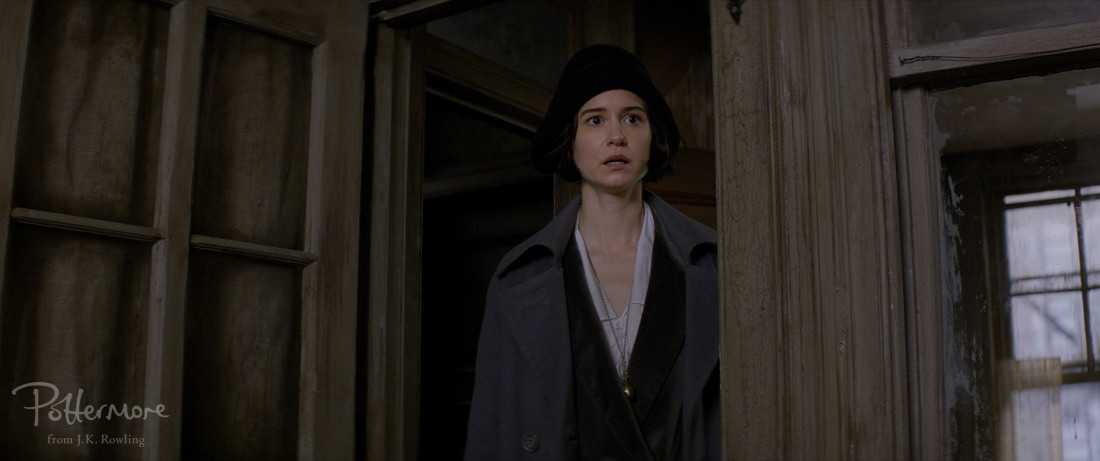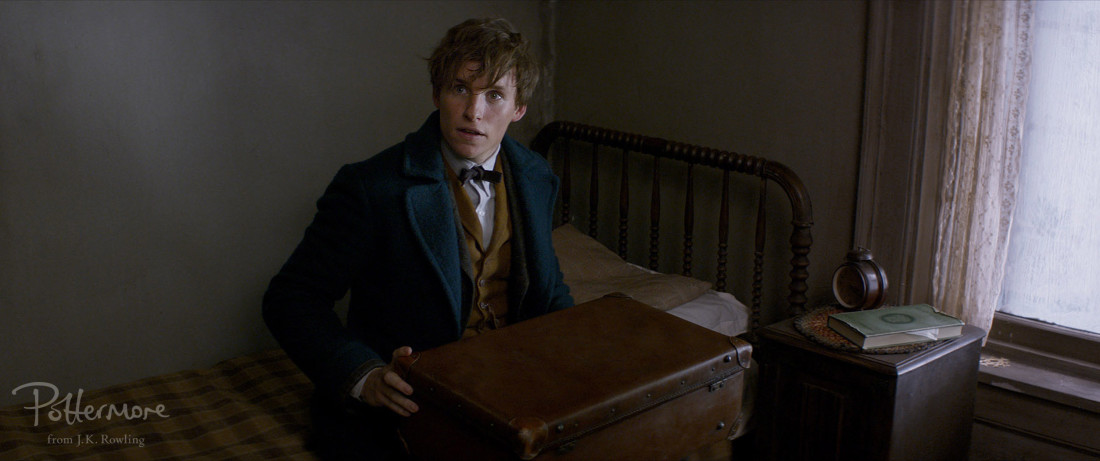 Freeze the frame at marker 1:29, and we see Newt running along the brick roads of New York, firing grand spells (with no-maj Jacob, played by Dan Fogler, running behind him and holding Newt's case). A woman's voice (Pottermore says it's Tina), eerily similar to Maggie Smith's (though she is NOT, I repeat, NOT apart of these films in anyway–who is ever yelling just sounds like her), yells with warning, "Mr. Scamander!" Newt is using powerful magic on the streets in a wealthy part of town. The buildings have columns, dressed with green garland, possibly for Christmas, and large, neat display windows. The plaque on the side of this building reads "Voclain &…"–we can only assume it is a prominent business of some sort.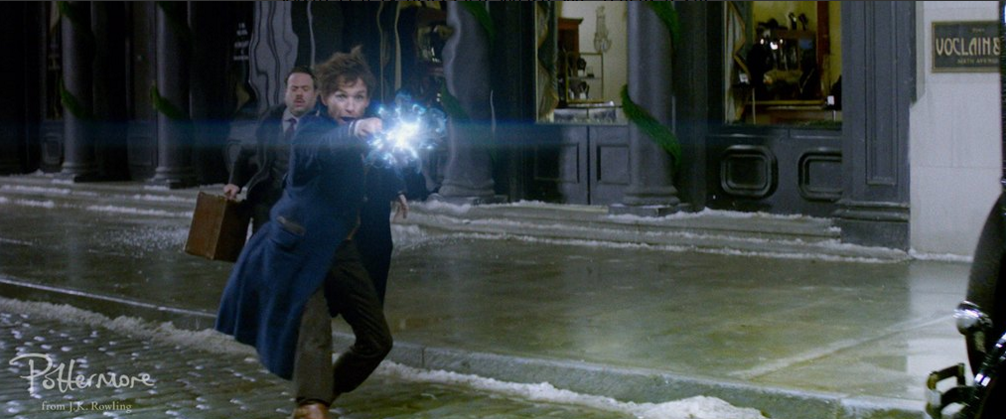 That is it for our first look. If one does look very closely, the backgrounds of important title frames, such as "in 2016," "writer J.K. Rowling," "invites you to return," and "to the wizarding world," appear against backgrounds of scales, feathers, fur, and other magical animal skins and bodies. It is a nice touch, and shows the excellent attention to details these films will have.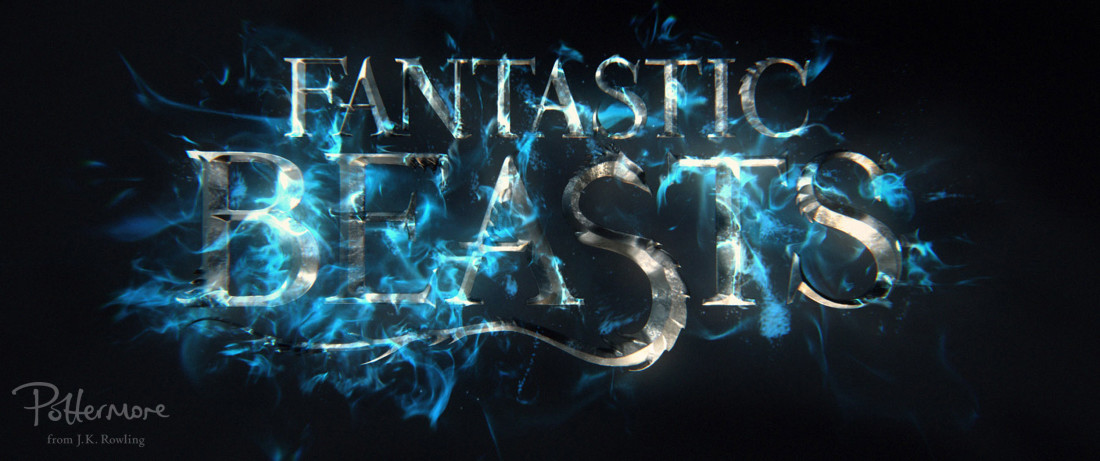 Pottermore also gives their official review of the trailer, and provides wonderful high-def screenshots that were far getter than the ones I managed to snap–though they snapped the exact same scenes. Their review and photos can be seen here. IMDB took note of all the actors faces, and a more fleshed out cast list can be seen here.
What do you think of the first trailer? Do you see anything we might have missed?
The poster. Let us not forget that, with the count down to the trailer, we were given the first official movie poster of Fantastic Beasts.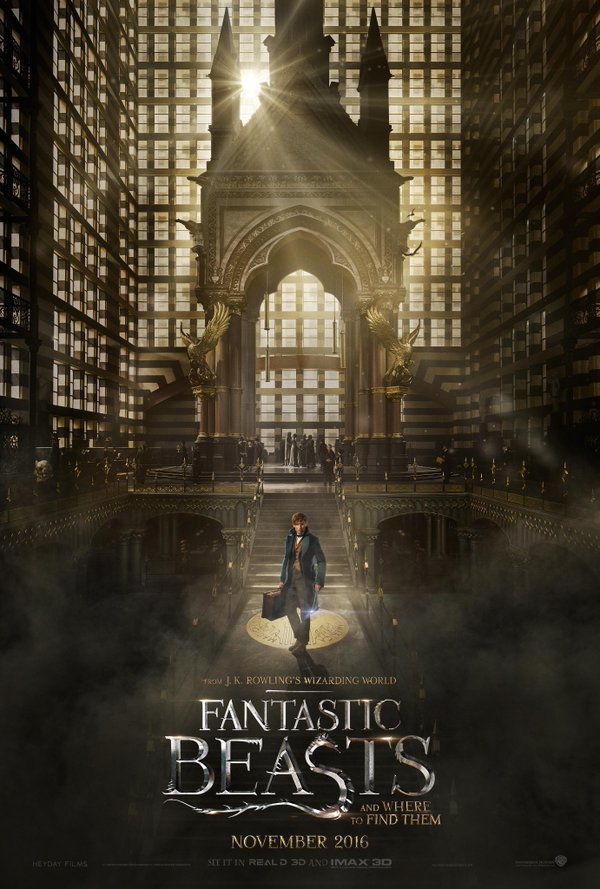 Newt is standing on the MACUSA seal, in front of what must be the ornate rotunda of MACUSA. The same golden Phoenix that is apart of the MACUSA seal adorn the pillars. The arch in the center is very similar to the shape and size of the arch that is apart of architecture of The Woolworth Building, the building containing the secret entrance to The Magical Congress of the United States of America. Perhaps, this is what the hidden magical side of the entrance looks like. It is quite similar to the fire places and large rotunda of the entrance hall to Ministry of Magic–the hidden entry way beyond the toilets and preying muggle eyes.