Happy Birthday, Ralph Fiennes!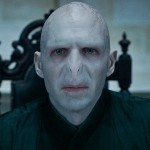 Dec 23, 2015
Ralph Fiennes, the actor who played Lord Voldemort in the Harry Potter films, is celebrating his 53rd birthday!
In honor of his special day, here's an AMC promotional video from 2011, where Fiennes describes the final battle between Harry and Voldemort in Harry Potter and the Deathly Hallows, Part II, and talks about his inspiration for portraying the lonely and tormented adult that Tom Riddle became.
From all of us here at Leaky, happy birthday, Ralph Fiennes, and thank you for making our favorite villain so terrifying on screen!