An Interview with Dame Maggie Smith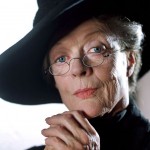 Dec 27, 2015
Dame Maggie Smith, our dear Professor Minerva McGonagall, is celebrating her birthday on December 28.  In honor of both her birthday and her amazing career, CBS News Sunday Morning broadcast an exclusive question and answer session today.
The short interview highlights the major events in Dame Maggie Smith's life, from her first appearance on Broadway in 1956 to her current project, The Lady in the Van.  In the new film, Dame Maggie portrays Miss Shepherd, a vagabond woman who spent the last fifteen years of her life in a van parked on playwright Alan Bennett's driveway.
The interview also includes quite a few juicy tidbits about Downton Abbey, and CBS News credits the Harry Potter films with introducing this wonderful actress to a new generation.
At the end of the interview, Correspondent Mo Rocca shows Dame Maggie a clip from her appearance on the Carol Burnett Show in 1975.  Dame Maggie takes a moment to reflect on the experience and the outfits designed by Bob Mackie. "Those were the days," she says.
"Correction, these are still the days of Dame Maggie Smith," answers Mo Rocca.  We here at Leaky agree.
So, although she doesn't want to be reminded, please join us in wishing a happy birthday to Dame Maggie Smith!