Long list of 'Harry Potter' actors to feature in 'Alice Through the Looking Glass'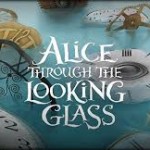 Jan 08, 2016
Alice Through the Looking Glass is set for release on May 27th this year, and will feature many of our favourite actors from Harry Potter!
Alan Rickman is returning as the voice of the Blue Caterpillar, Helena Bonham Carter will once again make a fantastic Red Queen, and Stephen Fry – a fantastic reader of the Harry Potter audiobooks – is bound to impress again as the Cheshire Cat.
All three can be heard or seen (in the case of Helena Bonham Carter) in the trailer below. Timothy Spall will also return, voicing Bayard – the Red Queen's bloodhound.
Adding to the list of Potter names involved, Toby Jones (Dobby) will feature in the film as the voice of 'Wilkins', Frances de la Tour (Madame Olympe Maxime) as 'Aunt Imogene' and Rhys Ifans (Xenophilius Lovegood) as the Mad Hatter's father, Zanik Hightopp.
Ifans speaks about his role, and being on set of the film in an interview (below):
The synopsis of the film (a sequel to the 2010 film Alice in Wonderland) is as follows:
'Alice Kingsleigh (Wasikowska) has spent the past few years following in her father's footsteps and sailing the high seas. Upon her return to London, she comes across a magical looking glass and returns to the fantastical realm of Underland and her friends the White Rabbit (Sheen), Absolem (Rickman), the Cheshire Cat (Fry) and the Mad Hatter (Depp), who is not himself. The Hatter has lost his Muchness, so Mirana (Hathaway) sends Alice on a quest to borrow the Chronosphere, a metallic globe inside the chamber of the Grand Clock which powers all time. Returning to the past, she comes across friends – and enemies – at different points in their lives, and embarks on a perilous race to save the Hatter before time runs out.'
A still from the film was released recently and can be seen below, along with the official movie poster.