PopSugar Interviews Rupert Grint about Moonwalkers, Harry Potter and More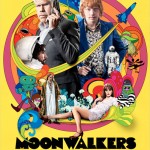 Jan 15, 2016
Rupert Grint sat down with PopSugar for a lengthy interview. He talked of his new film, Moonwalkers, opening January 15, as well as his role as Ron in the Harry Potter series.
With all of the new projects happening in the Harry Potter universe, Rupert told PopSugar what he thought about Cursed Child and Fantastic Beasts, and how he could initiate Eddie Redmayne into the Potter family. Rupert even joked about weird Harry Potter pickup lines he's heard.
In Moonwalkers, Rupert works along side Ron Perlman (Hellboy) who will also be taking a role in Fantastic Beasts and Where to Find Them. Rupert talked of what it was like working with the comedic actor, his character and role within the film, and how much fun he had on set with the cast and crew.
PS: There are so many new things happening with the Harry Potter franchise.

RG: It's really kicking off, isn't it? With the play [Harry Potter and the Cursed Child]. It's amazing and quite surreal . . . to not be a part of it feels weird. I'm definitely gonna see the play. It'll be interesting: it's a great story in its depth, and I know it will translate well on stage.

PS: How do you feel about Eddie Redmayne joining the wizarding world [in Fantastic Beasts and How to Find Them]?

RG: I'm excited to see it!

PS: If there was some initiation ritual for the franchise, what would it be?

RG: A few hours on a broomstick, maybe, though I'm not sure if there's any Quidditch [in the film].

PS: Maybe some sort of Butterbeer drinking challenge?

RG: Yeah, or eating slugs.

PS: How does it feel to have this whole new generation of kids discovering the series for the first time?

RG: It's a trip. It makes me feel quite old! It's surreal, but amazing. I feel proud to be a part of it, because the books and films are so important to people. It's great that it lives on. and people are still excited, and it's still so relevant.

…

PS: On that note, have you gotten any really amazing or really bad Harry Potter-related pickup lines?

RG: Not so much chat lines, but more innuendo. Things about broomsticks and wandsand "going deep." You know, "chamber of secrets." All that. Have you heard any?

…

PS: You might be on to something. What was it like to work with Ron Perlman? He seems like he'd be so intimidating.

RG: It was terrifying. [Laughs] I was so intimidated and nervous to meet him — he's Hellboy! But he was so sweet, so much fun, and so funny. You don't equate him with comedy, but he's hilarious. The scene of our characters tripping on acid took us hours to get through. We couldn't hold it together.
POPSUGAR: What was your favorite thing about making this movie?

Rupert Grint: It was such a fun film to work on. It was very spontaneous, and nobody really knew where it was going. I loved working with Ron Perlman and Robbie [Robert Sheehan]. Also, being on the moon and wearing an astronaut suit is kind of every kid's dream. Overall, it was a very unique, special experience.
To read more of this interview, and view the pictures along with it, please read the original article by PopSugar.