Wizarding World of Harry Potter in One Day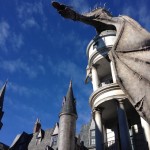 Jan 15, 2016
In anticipation of Universal Orlando's Celebration of Harry Potter weekend and upcoming vacation season, my sister has written a special touring report for witches and wizards heading to the Wizarding World this year.

Now that the lines have died down slightly, it is completely possible to follow in Harry's footsteps and experience all that Universal Orlando's Wizarding World of Harry Potter has to offer in one day.
I come from a family of theme park vacation planners and our typical plans aim at maximizing fun while minimizing walking and lines. This is not that plan. This plan attempts to fully immerse you in the wizarding experience the way it unfolded for Harry. You should get to everything you want to do, but wear comfortable shoes and bring ibuprofen because you will spend some time on your feet.
Logistics
First, you will need to invest your child's college savings in a single day 2-park ticket that includes access to both Universal Studios and Islands of Adventure. It is a lot to spend on one day, but it is the only way to experience the Hogwarts Express ride between the parks. I justified to it to myself that I could always go to one park or the other on a subsequent trip and my sister really needed me to write this report. Do whatever it takes to relieve your guilt and purchase this ticket. To whoever is reading this, thank you for your part in clearing my conscience.
You may have heard about Universal's locker policy for certain rides. They are free for the duration of the rides that require them and we did not face much frustration, so feel free to bring whatever you want to carry to the parks – including lots of snacks and toys for the kids. Just kidding. We all know you have to be eleven for admission to Hogwarts and that is about the age required to get through this single day plan successfully.
I do recommend bringing as many photo-taking devices as possible. Feel free to dust off your old point and shoot if you don't want your phone to die before the galleon shot.
One word of warning is regarding the security "process" recently instated. Unless you want to wait in a long line walking in place on a mobile walkway, I suggest parking at least 45 minutes before opening. After getting through, head right and enter through Universal Studios.
London
Your Wizarding World journey will begin as it did for Harry – in London. Take a brief look around the telephone booths (dial MAGIC for a message from the Ministry) and cabbies' shelters. You can also try asking an employee where you can find Diagon Alley. I overheard one who responded they had "no idea" – silly muggles.
Diagon Alley
When you reach jolly good status, head "through" the brick wall into the most magical theme park land I've ever experienced. Join the group of people standing right inside and take it all in. You will be annoyed by these people later, but for now – enjoy the view.
So much traffic being blocked for this.
Just like the first time Hagrid brought Harry to Diagon Alley, your first step is to get proper wizard currency at the Gringott's Money Exchange. If you know you will buy something later or you like making poor souvenir investments, you can purchase wizard notes in $10 or $20 increments. Even you don't want to exchange, it is worth checking out.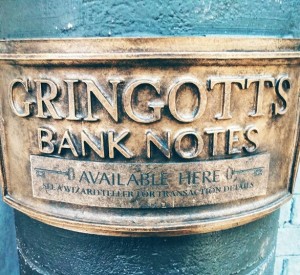 Now with pockets full, it is time to shop! Begin at Ollivander's Wand Shop and experience the wand selection process before choosing one of your own. Universal now has the option of interactive wands that allow you to "cast spells" with certain wand movements that is very fun.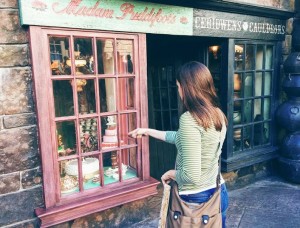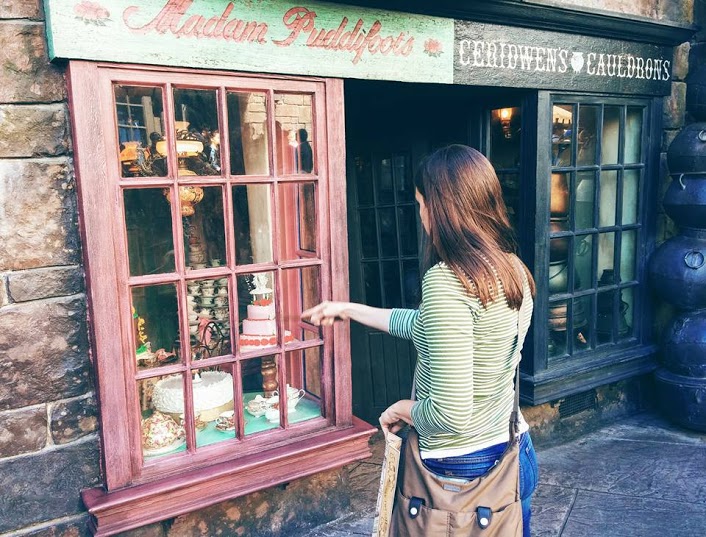 At mid-morning, make your way to King's Cross Station.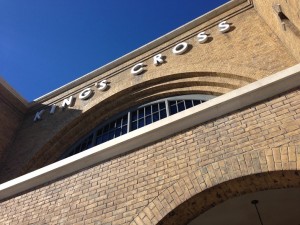 It is time to enter your first year at Hogwarts, but don't worry, the school year always has a pesky way of ending, and you will be back to explore more of Diagon Alley later. Watch fellow classmates head through the wall to platform 9 ¾ before you find your compartment and enjoy the ride.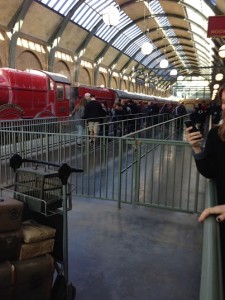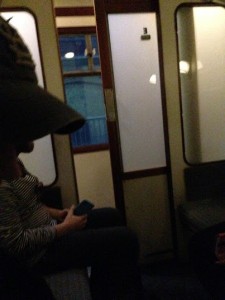 Hogsmeade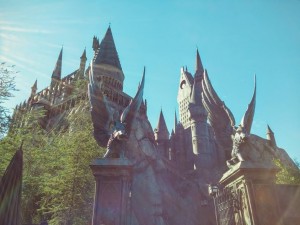 Ride Harry Potter and the Forbidden Journey and then head to the Three Broomsticks for lunch.  Be sure to have some Butterbeer – available hot, cold or frozen. Then catch the last two attractions in Hogsmeade, Flight of the Hippogriff and Dragon Challenge, before taking in the shops.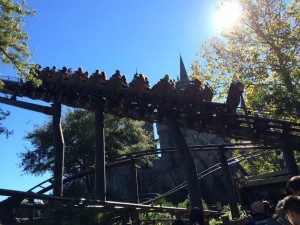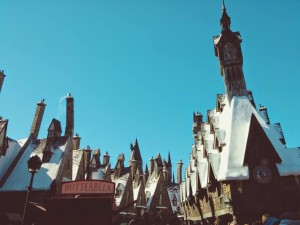 With all of your Hogwarts hijinks behind you, it is now dark times for Harry Potter– and you must once again board the Hogwarts Express, this time without the anticipation of return– as you seek to destroy Voldemort.
Return to Diagon Alley
Upon your arrival back in London, stop for a conversation with the Knight Bus driver and head back to Diagon Alley through those pesky bystanders I warned would eventually annoy you.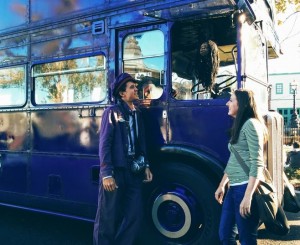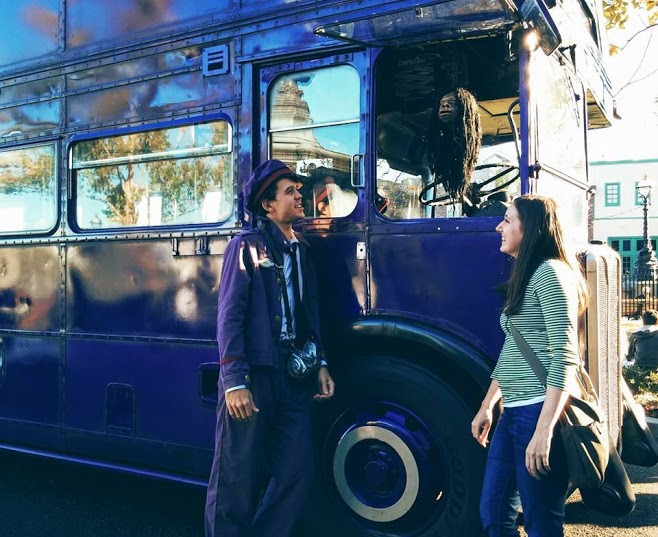 Take a detour through Knockturn Alley to feel the gravity of the situation before proceeding to Harry Potter and the Escape from Gringott's.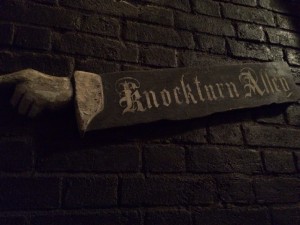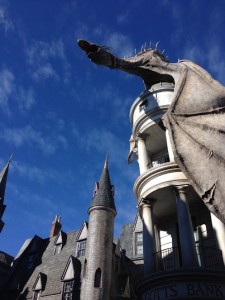 The line will be horrible, and I might recommend going the single rider route for this one as they seemed to be able to peek in for the interesting parts of the queue, but I don't know for sure.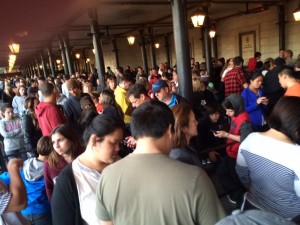 Part of said line.
What I do know is that this ride is a fantastic pinnacle to a great day and is worth any amount of time your body will allow.
After saving humanity you deserve to tuck in at the Leaky Cauldron. We tried Bangers and Mash and the Pie Combo, and both were delicious. Also, props to Universal for their efficiency with this restaurant. They direct those from a single line to the next available register and find you a seat, which really took away the stress usually involved with theme park dining.
Finally, finish up your shopping and explore Diagon Alley, which is really a different experience at night. Here are some of the great products available.
On your way out, feel free to block the entrance of Diagon Alley one last time for that goodbye shot to last you until you can save enough sickles to return.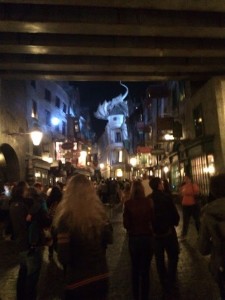 See here to learn more about the Wizarding World of Harry Potter at Universal Orlando Resort and start planning your own adventure.