Rupert Grint Clears Up Rumor From "Harry Potter" Set, Talks About New Film "Moonwalkers"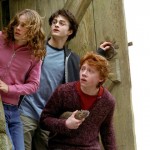 Jan 21, 2016
In an interview with The Huffington Post Australia, Rupert Grint revealed some quite "Ron-ish" qualities about himself when he was asked about a rumor that originated from the set of Harry Potter and the Prisoner of Azkaban. As the story goes, director Alfonso Cuarón had asked Daniel, Emma, and Rupert to write essays about their respective characters–Harry, Hermione, and Ron– in preparation for the film. The actors delivered in a way that was in keeping with  each of their characters: Emma turned in a 16-page report, Daniel fulfilled the task with a one-page effort, and Rupert dodged the essay all together. He confirmed these happy similarities in the interview.
"Yeah. That is true, yeah," Grint said, laughing.

"It's quite Ron-ish not to do it," he added. "I think [Cuarón] kind of appreciated that."
The interview revealed a selection of other amusing oddities. Grint also confirmed that he does indeed own an ice cream truck and that he will "never get rid of it." He added, "[Pedestrians] think, rightly, that you are a legitimate ice cream salesman. And they queue up and expect ice cream, which I don't have."
At the time of the interview, Grint had also recently heard about the "Ronbledore" fan theory, which posits that Ron is a time-travelling Dumbledore. Grint reported that he hasn't yet formed an opinion of his own on the theory; however, J.K. Rowling denied the theory on Twitter.
He also spoke about his upcoming film Moonwalkers: 
Although he's stepped out of the "Potter" world, Grint continued to pursue acting, currently starring in a psychedelic space-race flick "Moonwalkers" alongside "Hellboy" star Ron Pearlman. An offbeat story peppered with cartoonish violence, the film indulges conspiracy theorists' ideas about NASA's 1969 moon landing. Grint's Johnny is an ungifted band manager looking to make some cash by conning his way into a CIA plot led by Agent Kidman (Pearlman) to produce fake video footage of men on the moon with Stanley Kubrick.

Something of an armchair conspiracist himself, Grint was naturally attracted to the script, he explained. He considers the famous photo of a flag waving on the moon — a windless surface — particularly suspicious.

"There was a period when I was quite obsessed with it. I'm quite decided that it definitely happened," he said. "We did land on the moon."
The interview ended on a bittersweet note, with Grint recalling the days he spent with Emma and Dan: "I loved working with them," he said, "all those 10 years."
You can read the full article here.