Leaky Fans on the Ground at the HP Celebration- Part 1: Chelsea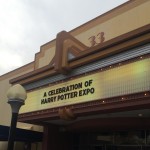 Feb 01, 2016
Unfortunately, this last weekend, Leaky wasn't able to attend the Harry Potter Celebration in Orlando. However, we do have marvelous Harry Potter fans who follow our site, and we invited them to share their experiences of the celebration.
Chelsea Kleven, a Senior Production Editor for a Central Florida newspaper, was the first to share her experience with us. The following review of the Harry Potter celebration is written by Chelsea Kleven. (Click to enlarge photos)
I had no expectations for the Harry Potter Celebration weekend. My friend Amy and I had heard about the Harry Potter Celebrations before, but had never been to one. We live an hour from Universal Studios and both have annual passes to the park, and this year, we decided to see what it was all about. We figured it would be over-crowded and impossible to do anything all day, but since we have been to the park and experienced this many times before, we didn't mind.

Amy and I both work for a daily Central Florida newspaper. I'm a designer, and she has a design background but now works on special projects and social media. We are both HUGE newspaper nerds, which inspires our love for the Daily Prophet (even though it seems Daily Prophet is written by many crooked journalists in the books.)
We headed straight for Hogsmeade Village when we got to the park, though we normally go to Diagon Alley first (that way you can ride the train from King's Cross to Hogwarts like you would at the start of a school year. We've given this a lot of thought.)

When we looked up the schedule for the Celebration events, we discovered there was a graphic design panel happening in about 45 minutes in Hogsmeade. Perfect! We had just enough time for a ride Harry Potter and the Forbidden Journey, and run over to the panel. 

For as big of a Harry Potter fan and design nerd as I am, I had absolutely no prior knowledge of Minalima, the graphic design duo behind the Harry Potter films. Their talk was short and sweet, but still awesome. I had no idea what being a graphic designer for a film was like.

They began with a short video showing clips of their work as seen in the films. They discussed how many people don't realize how every paper, poster, package … everything!…has to be created by a graphic designer. 
Minalima spent a large amount of time creating a realistic world for these characters to interact in, but often, their work is rarely seen in the final film. For example, they said they spent 7 months working on all of the elements for Fred and George's shop, when it was only seen in the film for about a minute and 30 seconds.

They weren't bitter about this at all though. They seemed thrilled to have been a part of the films, and lucky to help bring authenticity to the magical world. Another example of their hard work was how they designed all of Hermione's books for Deathly Hallows. However, the books, too, were never even seen in the film. All they got was a sound of the books falling over in Hermione's beaded bag. 
They discussed how the parks were such a dream for them, because they were now able to show their work in a place where people were able to really stop and look at it. Park-goers could pick up boxes, look at advertisements on the walls of Diagon Alley, and really absorb the detail that went into everything.

The duo also discussed their favorite pieces to create, which were the Daily Prophet and The Marauders Map. The Daily Prophet is my absolute obsession, so I was busy snapping hundreds of pictures of all of the close-up images of the Daily Prophet and didn't absorb much of what was said about it.
As far as the Marauders Map, they really reiterated how they wanted to pump the personality of the characters who created the map into their design. It wasn't about their personal design aesthetic, it was about bringing authenticity to the object. Moony, Wormtail, Padfoot and Prongs were crafty and intelligent, and they wanted the map to be a reflection of those qualities.

The map was drawn BY HAND based off of architectural maps that had been created for the set. The hand drawings were scanned in and developed into what you see on film. When the map was  first created, there was a small mistake on it. They had included the Room of Requirement. Someone on the team realized that the room was not supposed to appear on the map, and went back through the whole process to take the room out.

After the graphic design panel, Amy and I headed over to the other park where the Harry Potter Expo was located. After chatting with some people at the design panel, we learned there was a wall covered in Daily Prophets at the expo and we had to check it out. We went first to Diagon Alley and had lunch at the Leaky Cauldron, complete with a Dragon Scale beer, and (it is our tradition on every visit) we sat on the stoop of the Daily Prophet office and took a photo.
We didn't have to wait very long to get into the expo, though it was pretty crowded. We caught a glimpse of people being sorted into houses by the sorting hat on the way in. 

The expo wasn't quite as large as we were expecting. There was a large stuffed Fluffy you could take photos with, and a large Fawkes perched from the ceiling. A giant Lego replica of Hogwarts and some other movie props were on display. A wall blank wall was available for fans to write "What Harry Potter means to you."
There was a booth handing out posters of the cover of the illustrated Sorcerer's Stone, and a place to take a Quidditch themed photo. At the Pottermore booth, there was a large map of the new wizarding schools around the world. [Click to enlarge photo]
Minalima had a booth set up as well, which was where the Daily Prophet wall was. Amy and I took about 394 photos in front of it. Mira Mina and Eduardo Lima were there signing prints they had for sale. They also had a spread of some of the movie props they had designed, such as a copy of Advanced Potion Making, a stack of Qibblers, and pamphlets on "When Muggles Attack."

There was a cool display of school letters hanging from the ceiling and trailing on the floor, that was previously featured in their gallery exhibit last month. The graphic designer in me was overjoyed.
There was a studio tour at the expo as well, but the line was incredibly long so Amy and I decided to skip it. And it was lucky we did, because when we left we realized the cast Q&A panel had just begun nearby. We stood towards the back of the crowd, but we still could not believe we were actually seeing the cast answer questions. We had no expectations going into the day of even catching a glimpse of them, so it was an awesome surprise.

Overall the day was amazing. There had been a lot more to do and see over the whole weekend, but we were completely happy with the little bit we got to experience. Maybe next time we'll try and see more of the events – I highly recommend making a visit!
Chelsea took video of the Q&A that took place in the early afternoon. This cast Q&A was not live streamed, exclusive for those at the celebration. A similar cast Q&A that night was made available on live stream. In this clip the actors talk about their fears and if they have conquered them. The topic of spiders led to asking Rupert to rap, but Matt came to Rupert's rescue with his own spider story. Apparently Matt is more afraid of spiders than Rupert, and no he definitely has not overcome that fear.