UPDATE: 'Cursed Child' Script to be Published in July, and Jim Kay's Illustrated 'Chamber of Secrets' Announced!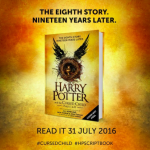 Feb 10, 2016
Following speculations, Pottermore and Little Brown UK have just announced that the script book for Cursed Child will be released July 31st – Harry Potter and J.K. Rowling's birthday AND during GeekyCon!
Pottermore reports:
A host of new print and digital publishing has been announced from J.K. Rowling's Wizarding World, including a Special Rehearsal Edition of the script book of new stage play Harry Potter and the Cursed Child Parts I & II. 

Print and digital editions will publish simultaneously after the play's world premiere this summer, and will comprise of the version of the play script at the time of the play's preview performances. 

Theatre previews allow the creative team the chance to rehearse and explore scenes further before a production's official opening night. Harry Potter and the Cursed Childopens for previews several weeks before its official first performance on Saturday 30 July and the Special Rehearsal Edition of the script book will later be replaced by a Definitive Collector's Edition.
The news confirms that fans around the world will be able to join this next venture into the Wizarding World, so don't fret if you didn't get tickets to the play!
J.K. Rowling sought to make it clear that this '8th Book' is NOT a novel, it will be released in the form of a published script, written by Jack Thorne (Rowling did have a part in the writing, but she's been working on the Fantastic Beasts screenplay!):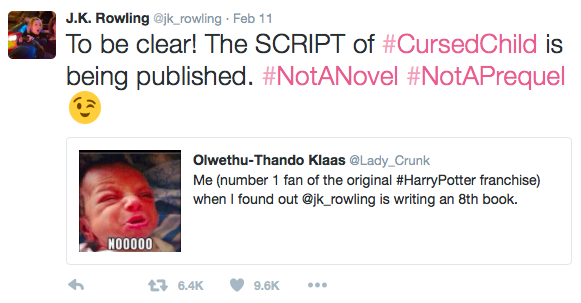 Pottermore also announced the release of Special Editions, and Jim Kay's next illustrated edition of Harry Potter and The Chamber of Secrets!:
Next year will see the publication of four special editions of the first book in the UK, one for each of the four Hogwarts houses. There will also be a brand new edition of Fantastic Beasts and Where to Find Them in 2017, with new content by J.K. Rowling, as well as new formats and editions of the Hogwarts Library books – Fantastic Beasts and Where to Find Them, Quidditch Through the Ages and The Tales of Beedle the Bard. 

Pottermore doesn't play favourites, but we're especially looking forward to nabbing a copy of Harry Potter and the Chamber of Secrets illustrated by Jim Kay. That's coming a little sooner, in October 2016, and we'll be prodding Jim for a look at his latest work soon because we're nosy like that.
Scholastic will be in charge of Cursed Child publications in the US and Canada (priced at $29.99 in the U.S., $39.99 in Canada), whilst Little Brown & Co will be publishing in the UK (at £20.00).
David Shelley – CEO of Little Brown Book Group UK – commented:
"We are so thrilled to be publishing the script of Harry Potter and the Cursed Child. J.K. Rowling and her team have received a huge number of appeals from fans who can't be in London to see the play and who would like to read the play in book format – and so we are absolutely delighted to be able to make it available for them."
Ellie Berger, President of Scholastic Trade said:
"As the U.S. print publisher, Scholastic introduced Harry Potter and J.K. Rowling's Wizarding World to American readers nearly 20 years ago and experienced firsthand the anticipation and excitement of the publication of each of the books over the years. We are thrilled to publish Harry Potter and the Cursed Child this summer."
2016 is looking like a huge year – Cursed Child, Fantastic Beasts, more Jim Kay illustrations – what more could we want?!