Pottermore Interviews Eddie Redmayne on "Fantastic Beasts" Set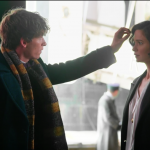 Feb 11, 2016
Today, Pottermore released a new interview with Fantastic Beasts leading man, Eddie Redmayne. The interview talked a little of how Eddie came to be Newt Scamander in J.K. Rowling's new movie series, and some of the characteristics he shares with Newt. For starters, Eddie actually carries his own brief case and it contains important aspects of his life within it.
Pottermore reports:
'This is actually slightly embarrassing…'
Eddie Redmayne is sheepishly telling me the story of meeting Fantastic Beastsdirector David Yates for the first time. There's a broad, bright smile on his freckled face as he does.

Eddie has a case. A tan leather case just like the one his character Newt Scamander keeps his beasts in…

'I've had it for about eight years. My dad works in the city and has always had a briefcase. I always did this acting thing for a living, which didn't feel like a proper job and I wanted something that made me feel like I was doing a proper job and so I got this case. I use it whenever I go on set. I keep my script and whatever mementos I find useful in it.'
When Eddie met David Yates, and the Harry Potter director was telling him about Newt's story and his magical brief case, Eddie became a little self-conscious of his brief case, telling Pottermore,
'I said [to David Yates], "I promise I didn't know about Newt's case. I didn't bring this as some sort of weird method audition – like, don't worry David, I come with my own case!" And I'm afraid it's still here, it's still got my life in it. Not quite as much as Newt has in his case, though…'
Telling Pottermore of getting the part of Newt after that first meeting with David Yates, Eddie said it wasn't a matter of him wanting the role, it was a matter of him getting the role. Pottermore reported,
'David has such a lovely manner and this incredible kindness to him. There was no question I wanted to do this movie. For me, it was a question of whether I'd get the gig. When I read J.K. Rowling's script, I just had my mind blown. I was so excited by it. The amazing thing was that I found it funny, I found it a thriller, I found it romantic. At the end, I was deeply moved by it.'
The entire interview may be read here, keep an eye on Pottermore for more Fantastic Harry Potter news coming soon (hopefully).