Katie Leung on 'One Child' and Racism in Media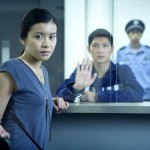 Feb 13, 2016
Katie Leung (Cho Chang) will be back on screen this week in the BBC mini-series One Child. Leung plays Mei Ashley, who was adopted from China by British parents.  As a young woman, Mei learns that her birth mother and biological brother need her help.  She travels to Guangzhou where her brother is on death row after being framed for murder.  (All of this happens during the period of China's one child policy, which was only revoked last year.)
In anticipation of One Child, Katie Leung sat for an interview with Herald Scotland.  She begins by reflecting on her days filming Harry Potter.  Katie tells Herald Scotland:
"I was so innocent and naive… I think that allowed me to enjoy the moment of being a teenager, part of this massive franchise and not really having a worry in the world. If I was given the chance to go back and relive it, I would probably try to absorb everything around me a bit more."
Katie also tells Herald Scotland about her relationship with Harry Potter fans over the years.  Some have embraced her and become friends online and regular attendees at her plays.
"It has been incredible because the fans I got to know and love from the beginning have been with me throughout my career," she says. "They come to see my plays and contact me through social media. When they go to one of my shows that isn't Potter I get really excited. They have been so supportive and I'm grateful for that."
Unfortunately, others have not been so kind.  The Herald Scotland reports that one particularly unnerving group in the Harry Potter days started an "I Hate Katie" website to complain about Cho Chang's romantic involvement with Harry Potter and make racist comments.
"Looking back I can't remember much about that part of it because I was so in denial of what was happening," [Katie Leung] concedes. "I put it to the back of my mind. I don't know if that is the best way to deal with it, but that is naturally what I did in order to move on and be a good actor… I was being judged purely on my looks because she [Cho Chang] is supposed to be a very beautiful girl. This all happened before the films even came out. I thought: 'Well, I can't do anything about the way I look, so I'm going to need to do the best acting to make up for it.'"
Katie stills deals with racism at times, even in passive situations.  She tells Herald Scotland:
"There are people who are subconsciously racist and not aware of it…  If I'm in a taxi and asked: 'Where you off to?' and I say: 'I'm going to the airport', I've had the driver say: 'Oh, your English is really good … It happened not that long ago. You get strangers coming up and saying the one Chinese or Japanese word they know, such as 'ni hao' or 'konnichiwa'.

"It happens on the street or a night out in a bar. It's sexist and racist, actually. That is something which needs to be addressed, but then again that can be solved through more diversity on our screens."
With that, Katie Leung points out the problem of racism in film and media.  While in drama school, Katie wondered if she would ever be cast in a Shakespeare play because of her Chinese heritage.  It took a friend to help her realize that "I had been putting myself in a box when I was capable of so much more,"  according to Herald Scotland.  Later, Katie played Portia in The Merchant of Venice at the Royal Conservatoire of Scotland.
Leung is delighted that Noma Dumezweni has been cast as Hermione in Harry Potter and the Cursed Child, as she noted at A Celebration of Harry Potter in January.  "I was ecstatic when I heard she was going to be playing Hermione," Katie Leung tells Herald Scotland.  She sees it as a step in the right direction.
"If we are not representing what is in real life on our screens then people are going to remain ignorant, be prejudiced and maintain these stereotypes," she says. "It could always be better and we are definitely not quite there yet."
To read more about Katie Leung and BBC's One Child, see the Herald Scotland article, here.