Harry Melling Promotes New West End Show, "Hand to God"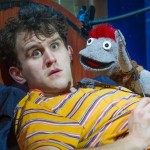 Feb 26, 2016
Harry Melling, the actor who portrayed Dudley Dursley in The "Harry Potter" films, has been busily promoting his new show "Hand to God," The Daily Mail reports. The play, which is being staged at The Vaudeville theatre in London's West End, will run until June 11.
Melling appeared on British talk show "Lorraine" on Wednesday to promote the play. He has received critical praise for his performance in the production as a troubled American teen and his sock puppet alter ego:
Harry has wowed critics so far in his portrayal of troubled American teen Jason, who is a member of a puppet club run by a Texan Lutheran church.

However, the club members are horrified when Jason's puppet Tyrone develops a life of his own and becomes a foul-mouthed representation of Satan.

The Independent's critic praised Harry as 'superb', writing: 'At first awkward and embarrassed and adorable as Jason, with a miniature semaphore of twitching finger taps and eyebrow acrobatics that signal his shy feelings. As Tyrone, he's hoarse and coarse, funny and foul, giving the puppet a convincing life of its own.'

Meanwhile, The Evening Standard's Fiona Mountford wrote: 'Melling, who's turning into one of the most interesting actors of his generation, is wonderful to watch.
Another "Harry Potter" star dropped by for a chat on Wednesday's edition of "Lorraine," too. Katie Leung, who portrayed Cho Chang, spoke about her role in the BBC's mini-series "One Child," a drama about a Chinese-born woman who was adopted by Anglo-American parents.
You can read the full article and watch interview clips here.
Click here to learn more about "Hand to God" and to buy tickets to the show.