John Williams, Tom Felton, Phelps Twins, and More Coming to Wizarding World Hollywood Opening!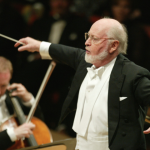 Mar 22, 2016
This morning, Pottermore released the list of special guests that will be attending the opening of the Wizarding World of Harry Potter in Universal Studios Hollywood.
Among those in attendance are Harry Potter stars, Warwick Davis, Tom Felton, Evanna Lynch, James Phelps and Oliver Phelps for the red carpet Grand Opening on April 5.
For this Wizarding World, they are bringing in the most magic they can. The actors will be joined by very special guest, the brilliant John Williams. The Oscar Award-winning composure of Hedwig's Theme and other movie scores we know and love so much, will be joining the others on the red carpet. We certainly hope a full orchestra will be following in toe, and Mr. Williams will take up the baton to provide the music for the night!
"A new magical world is lying in wait. The Wizarding World of Harry Potter opens on 7 April at Universal Studios Hollywood.

"And to celebrate, Harry Potter actors…will be on the red carpet at the Grand Opening on 5 April.

"They'll also be joined by a very special guest: Oscar-winning composer John Williams, who scored the first three Harry Potter films, including the iconic Hedwig's Theme.

"Following in the footsteps of Universal Orlando Resort and Universal Studios Japan, the Hollywood attraction will bring back some of the fans' favourite rides, as well as a few new surprises.

"For example, the ride Harry Potter and the Forbidden Journey – which is featured at both the Orlando and Japan theme parks – will bring new state of the art 3D-HD technology for the first time in the US, promising visitors a trip with a, well, whole new dimension. The Flight of the Hippogriff will be Universal Studio Hollywood's first outdoor rollercoaster.

"Until the opening day, you can obsessively check for updates on Universal Studio Hollywood's Facebook, Twitter, and Instagram pages while you wait."