UPDATE: Will Cherrelle Skeete portray 'Cursed Child's' Rose Weasley?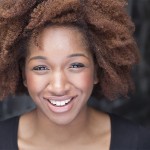 Apr 10, 2016
A graduate of London's Central School of Speech and Drama, 26-year-old Cherrelle Skeete's appearance on the cast breakdown for Harry Potter and the Cursed Child has raised many questions, mainly due to The Voice reporting that she has 'a leading role' in the play. Could Cursed Child have found its Rose Weasley?
The Birmingham-born actress first appeared on the West End in The Lion King in 2012, and in the Olivier-nominated Amen Corner at the National Theatre a year later. Her other theatre appearances can be found here.
Skeete made her TV debut in the BBC series Call the Midwife, and starred in the BBC1 drama Ordinary Lies. She also appeared as Dee Dee in Danny and the Human Zoo, which also starred Evanna Lynch!
According to The Voice, Skeete ran the Paris half-marathon for Children With Cancer, has worked with the Lozells-based Lighthouse Project, which aims to raise awareness of child sexual exploitation.
In January, she spoke at Birmingham Town Hall on her concerns about the increases in shootings in Birmingham, as part of an annual tribute to Martin Luther King Jr, saying:
"This generation out there now needs to be healthy in heart and mind so we can change what is going on out there.
"We need a new generation of young people who can rise up and be anything they want to be – even if it doesn't yet exist."
Born in 2006, Rose Weasley should be 11 years old in 2017, when 'Nineteen Years Later' should technically be set, meaning she'll be starting Hogwarts alongside Albus Serverus and Scorpius. This has raised questions about the probability of 26 year old Cherrelle Skeete playing the daughter of Hermione and Ron.
Anthony Boyle was announced as Scorpius Malfoy last month, and at 21 years old, proves that it is certainly not out of the question for Skeete to be portraying Rose Weasley.
She is certainly an amazingly talented actress, and we look forward to seeing if the rumours were true!
Read more about the actress here, and find her Twitter here.
Cursed Child is opening for previews in late May 2016, and for official opening performances in July 2016 at London's Palace Theatre – bookings are being taken until May 2017!
UPDATE: One of our amazing fans just pointed out on Leaky's Facebook page that George Weasley and Angelina Johnson's daughter (Roxanne Weasley) could also be a potential candidate for who Skeete could be playing. What a great idea, thanks a lot, Carla!