'House of MinaLima' Exhibition Opening in June in London's West End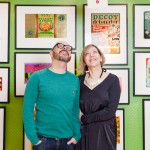 May 16, 2016
Fans of the Harry Potter films are no strangers to the work of Miraphora Mina and Eduardo Lima, the design duo responsible for the design of iconic props such as the Hogwarts Express ticket, The Daily Prophet, the Marauder's Map, and Harry's Hogwarts acceptance letter. The pair–better known by the moniker MinaLima–will be showcasing their work in a shop and exhibition called 'House of MinaLima', opening June 3 in London's West End.
MAGIC REVEALED – House of MinaLima, an exhibition and shop. Coming soon!#HouseOfMinaLima #HarryPotter #CursedChild pic.twitter.com/lwLorn1GU6

— MinaLima (@minalima) May 16, 2016
The exhibition will be housed at 26 Greek Street–a whimsical, four-storey building that would look right at home in Diagon Alley. Fans flocking to the West End to see Harry Potter and the Cursed Child Parts One and Two are in for a treat–the 'House of MinaLima' is around the corner from the Palace Theatre.
Says Lima:
"We knew straight away that it was the right place for us. We cancelled all our other viewings and told the landlord we'd take it. It's like Grimmauld Place in there, with narrow staircases, wonky walls and low ceilings."
Mina added:
"We wanted it to feel like it could have been there forever, like a museum. And as though it could disappear between the other buildings. By the time you reach the top floor, you can touch the ceiling. It's like Harry's cupboard under the stairs, but at the top of the building."
Exhibition visitors can expect to see a variety of original props from the Harry Potter films, as well as an array of limited edition Harry Potter prints and art from MinaLima's other projects.
The 'House of MinaLima' exhibition will be open daily until early 2017, and admission is free and unticketed.
For more information, check out Pottermore's report, here.