Fantastic Beasts of the Wizarding World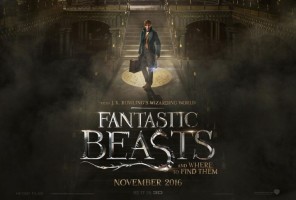 May 26, 2016
With the wizarding world returning to the big screen with a movie called Fantastic Beasts and Where to Find Them, not only will the magic return but so will the many magical creatures we have come to love. But which ones will we meet again, and how many new ones will we be introduced to for the first time?
There were many different types of magical beasts that were mentioned and introduced throughout both the Harry Potter books and movies. We all have our favorites, the ones we'd want as a pet, and now, the ones we want to see return in the Fantastic Beasts movie. I've decided to explore a few of my personal favorites. I've got my copy of Fantastic Beasts and Where to Find Them here to help us rediscover these fantastic beasts.
Shall we start with the obvious? Probably the most popular and most widely known throughout the wizarding world as well as the Harry Potter fandom. Terrifyingly beautiful, they are the hardest creature to conceal from muggles.
Dragons
We were first introduced to dragons in Harry's first year, when Hagrid began raising a Norwegian Ridgeback in his cabin. They were mentioned many times from that point on, finally making a reappearance in Harry's fourth year as the first task of the Triwizard Tournament. Since the four wizards each had to face a different dragon, we had the pleasure of being introduced to four new breeds: the Hungarian Horntail, the Chinese Fireball, the Swedish Short-Snout, and the Welsh Green.
There are ten different breeds of dragons known in the wizarding world but they occasionally interbreed, producing rare hybrid dragons. They have just a few different uses among wizards, namely for their wands. One option for the core of a wand is a dragon heart string. Other aspects of dragons are also useful in brewing potions or as fertilizer for plants.
As full beings, they have been known to be used as obstacles, sort of like guard dogs. Aside from the triwizard tournament, we see them used this way in the lower levels of Gringotts Bank. The Golden Trio even lived my dreams by flying a Ukrainian Ironbelly, the largest breed of dragon, to safety.
Moving on to one of my personal favorites.
Hippogriffs
A Hippogriff is a beautiful creature with the head and wings of an eagle and the body of a horse. They first appeared in the books in Harry's third year, when Hagrid took over the job of Care of Magical Creatures professor. Hagrid owned a beloved Hippogriff named Buckbeak. Luckily, Hippogriffs are one of the creatures Hagrid owned throughout the books that are actually able to be domesticated.
Hippogriffs are very sensitive creatures. One must be very careful when attempting to approach them, bowing low and keeping eye contact at all times. If the Hippogriff bows back, it is safe to approach farther. Also, it'd be wise to remember "If you have nothing nice to say, don't say anything at all," otherwise you may end up with an injury or two.
Phoenix
Very few people have been able to domesticate these birds, but it is not impossible. Phoenixes are grand birds, with rich scarlet feathers and a golden tail. They are very gentle creatures whose tears have powerful healing properties. The Phoenix song is quite magical as well, it is believed that it can increase the courage of the pure of heart and strike fear into the hearts of the impure.
Ablus Dumbledore was one of the few able to domesticate a Phoenix. Harry, along with the rest of us, were quite confused when Fawkes suddenly burst into the flames the first time we saw him. Phoenixes have a regenerative ability that let's them burst into flame when their body is weakening and be reborn from their ashes once again. They can also disappear and reappear at will, taking anyone holding onto them along with them. Kingsley Shacklebolt had it right, Dumbledore's got style.
Acromantulas
I've never been one for spiders but I think if I ever came within 100 feet of an Acromantula I'd probably soil my pants. It may not be the prettiest magical creature that I know of but it is definitely one of the scariest and most interesting. An Acromantula is a large, eight-eyed spider that is capable of human speech and has near-human intelligence.
Hagrid raised an Acromantula from the egg, creating a profound bond between the two. The Acromantula, Aragog, inhabited the Forbidden Forest until it's untimely death in 1997. Within it's life, Aragog established a colony within the forest where it's children still live today.
Since the latest trailer for Fantastic Beasts was released, we have caught a glimpse of two new beasts: the ever-adorable little trouble maker, the Niffler, and the Swooping Evil. The Swooping Evil isn't in the Hogwarts textbook, so Warner Bros. will be including Beasts fans would never have expected. The Niffler, the creatures listed above, as well as many others, you can learn more about in the Fantastic Beasts and Where to Find Them book!
Leave a comment about which fantastic beasts you'd like to see in the movie!