UPDATE: Privet Drive at Warner Bros. Studio Tour London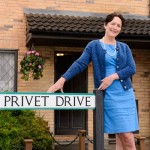 May 29, 2016
We recently gave you an exclusive sneak peak at the interior of Privet Drive at The Making of Harry Potter tour in London. Fiona Shaw (Aunt Petunia Dursley) opened the doors of her on-film house, leading guests in to tour the set.
UPDATE: Pottermore also recently reported on their visit to the set. They had the chance to interview Fiona Shaw and some of the major crew workers on set at Number Four Privet Drive:
'Mrs Dursley made the best of what she was in her house,' Fiona Shaw told me. 'But she wished that this house was five times the size it was; wished that she was five times more glamorous than she was, and possibly five times wealthier than she was.'
'The whole thing is about envy: she envied her sister. I think you can replace magic with imagination. You're either an imaginative person or you want to be. Mrs Dursley is what she is.'
John Richardson (special effects supervisor for all eight Potter films) showed off the machine he made to shoot 2,000 letters through the Dursley's letterbox in Philosopher's Stone:
'Everyone talked about using CGI for the letters originally,' John tells me. 'But I told them "No, we can do it mechanically". Which looked much better. Of course, once we'd fired 2,000 letters across the room we had to pick them all up. Which made it a little laborious to get to take two.'
The mysterious Pottermore Correspondent also got a chance to speak to Graphic Designers MinaLima (who's exhibit is due to open in London in just a few days!):
'It was the first prop I ever did for Harry Potter,' Miraphora explains. 'I think I was a bit naive about what was coming.'
Read Pottermore's coverage here.
This event only runs until June 6th, so make sure you book tickets pronto if you'd like to visit the inside of Number Four Privet Drive before then!
Find more information, and Leaky's exclusive look at the set here.