Pottecast Episode #257: Cursed Child Party at GeekyCon!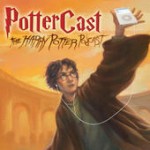 May 31, 2016
We know you have all been waiting with anticipation for the return of your favorite podcasters…and it's time! There is a new Pottercast available on iTunes. Episode #257 talks about the upcoming fan convention unlike any other–GeekyCon.
Pottercast and Leaky will take part in hosting GeekyCon and its Harry Potter events, including the Cursed Child midnight release party!
Also wondering why PotterCast disappears for long periods of time? Have no fear, the Potter podcasters talk about their plans to get Pottercast back on track again!
Thanks to our amazing listeners for sticking with us!
(If the newest Podcast isn't showing up in the Feed, refresh your iTunes several times. Go to "My Podcasts," "Pottercast," "Feed," and refresh. For those of you who haven't subscribed to PotterCast it may take a couple of days for the newest episode to appear on the iTunes page. Sorry for any inconvenience.)