Leaky EXCLUSIVE: Visiting the "House of Mina Lima" & Interview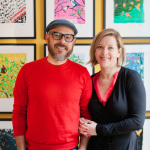 Jun 03, 2016
The following article was written by Georgia Gates, who attended a press event and breakfast with Mira Mina and Eduardo Lima for the opening of the House of MinaLima.
Just days before the official opening, Leaky was given the privilege of attending a first look tour of 'House of MinaLima' – an exhibition and shop featuring the iconic graphic design work from none other than the immensely talented Miraphora Mina and Eduardo Lima.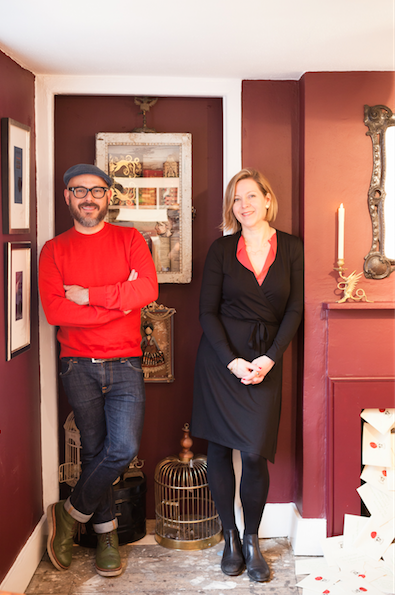 Located perfectly amongst the cobbled streets of Soho in the heart of London's West End, the four floor town house provides visitors with a culmination of Harry Potter graphic art spanning ten years, a series of stunning comprehensive prints titled as 'Illustrated Collective Nouns', and other illustrated work in-between. There is in addition, and much to fans excitement, the MinaLima shop located on the ground floor which comprises a wide selection of special edition prints and Harry Potter prop memorabilia.
On entering the exhibition, it is an immediate struggle not to pick up everything from the artwork shop, which displays an array of textbook replicas, beautifully illustrated notebooks and a limited number of selected posters and framed prints for avid Potter fans. As I am guided upstairs it feels as if I have stepped in to a Diagon alley town house, with the film aesthetic coinciding perfectly with the use of selective dated furniture, low, closed in ceilings and creaking floorboards.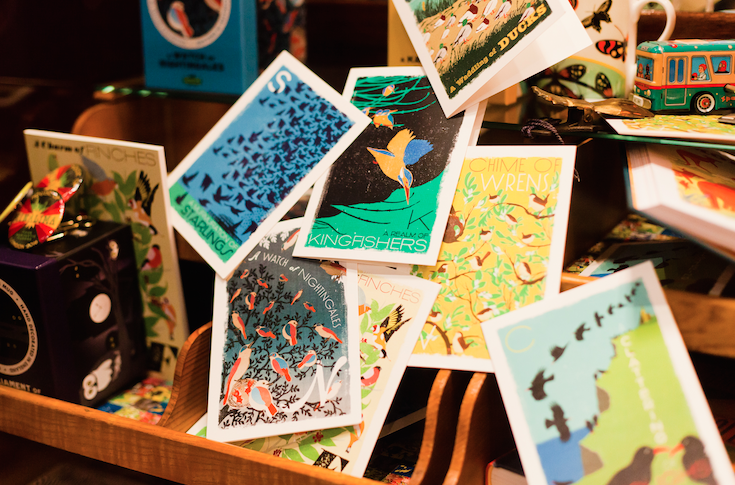 After admiring the extensive work on display over all four floors, I was keen to ask how the fifteen years of work had affected the talented duo as graphic designers.
"When Harry Potter came along, that gave us a total scope to evolve as a graphic designers which we hadn't planned to do. It gave Eduardo and I a fantastic opportunity to grow. So many people who worked on the films saw it as a school of craft because everyone was learning lots of new things. Often when you do graphic design on films it's the stuff you don't see, like a tax disk on a car or the signage on the side of a building but actually with Harry Potter it was so different because so many things were featured."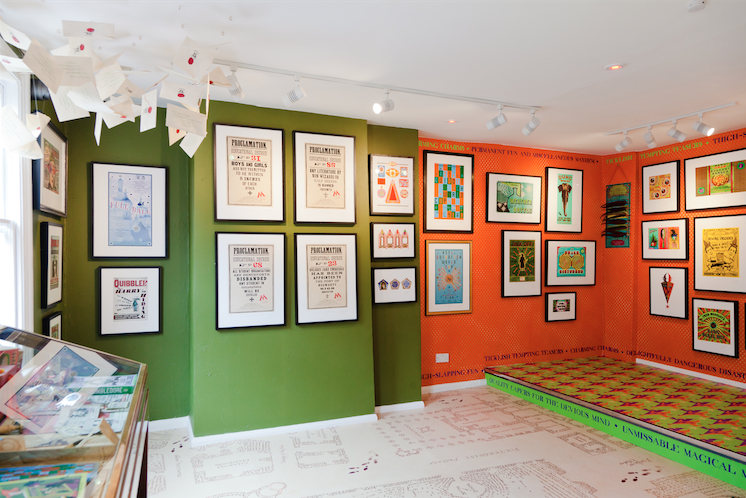 Looking around the room, the flooring of the 3rd level is an almighty spectacle, covered entirely in every tiny hand drawn detail of the Marauder's Map.
"It was all hand drawn. The original maps I would have drawn, scanned in all the artwork and reproduced around thirty to 40 maps. You have to do everything thinking about how it will be made in multiple."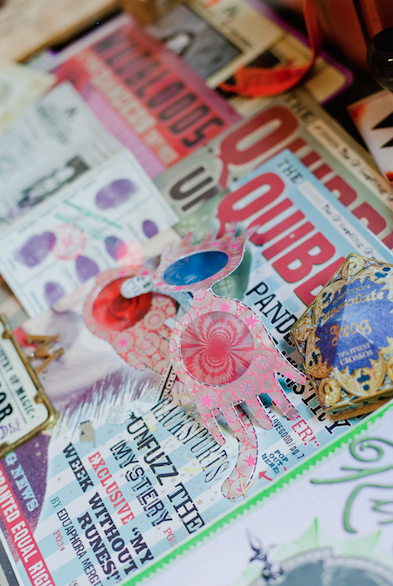 When asked what the best part about their entire experience on the films had been, Mira explained how much they had to become fully immersed in to the minds of each character.
"The best part was having to think as the characters, so if if I'm the Marauder's, how would I communicate each little piece of crafty information, or if I were a Weasley, how would I sell as much product as possible to my clients.. It's about removing yourself from being a designer and trying to enter in to the story."
Has working in Harry Potter changed your approach to new projects?
"Yes I think so. I probably wouldn't be called for one but I don't think we would do a modern, contemporary film because we know what our strengths are now, and we'd rather do fantasy or historical based films. Even downstairs you'll see a lot of our book projects and our own designs are anchored towards a retro style. We love doing research and things that inform that. And then you can transfer that in to your own ideas rather than just copying it."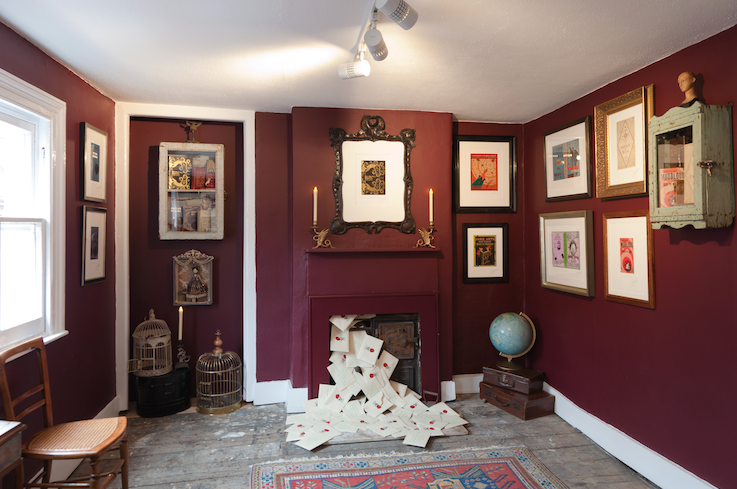 In terms of 'Fantastic Beasts' a lot of the materials have been revealed since we last spoke to you. Even though you can't give too much away, can you tell us anything that you've particularly enjoyed about the graphic design of the film?
"In the muggle world of Harry Potter, we had to design all of the graphic design from the scenes of the café, food design packaging, newspapers etc. But of course, in 1920's New York, anything that's muggle in the 20's is just so fascinating and totally opened our eyes to a whole new aesthetic. We love that period anyway! Even when we weren't doing wizard designs it was still interesting."
Do you think you'd enjoy working within any other Era?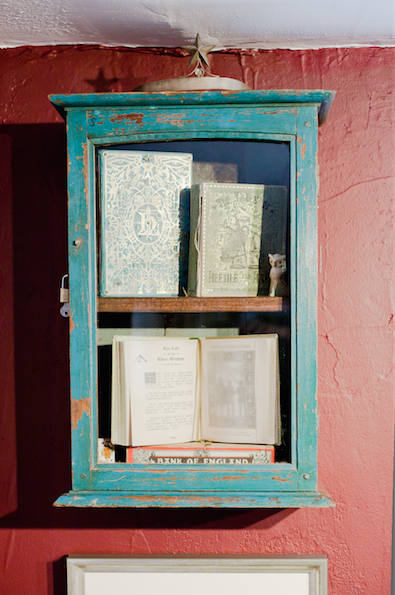 "I've no idea, but I'm hoping that the next stories might be a bit later so that we can go full Art deco style. But anything up to the sixties. If we were given an Elizabethan film tomorrow it would be interesting because we'd have to research and work out what materials to use and so on."
Moving away from the wizarding world and on to separate projects, the 'Illustrated Collective Nouns' prints are a visual feast, largely geared towards wildlife but also based around the concept of witty phrases used to describe a team of people and animals. I was intrigued to find out exactly how the pair came up with the idea behind the prints.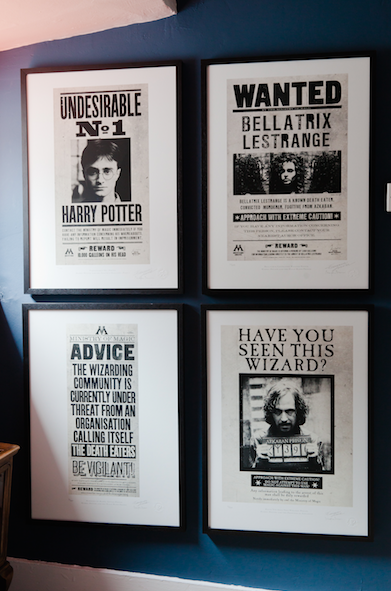 "We started with two friends who were really in to collective nouns, so we came together and researched as many collective nouns that we knew existed. A lot of them go back to 15th century Hunting terms. They're not contemporary, they were used in language and they've evolved, so that was how it started. A bit like Potter being a story, it started with a language. They were so charming and funny, we love to bring to bring humour in to our work wherever possible. Being the client and the artist we could just go for it and do something from the heart, so that was how it was born. We kept finding more and more collective terms, there's probably around a hundred in the book!"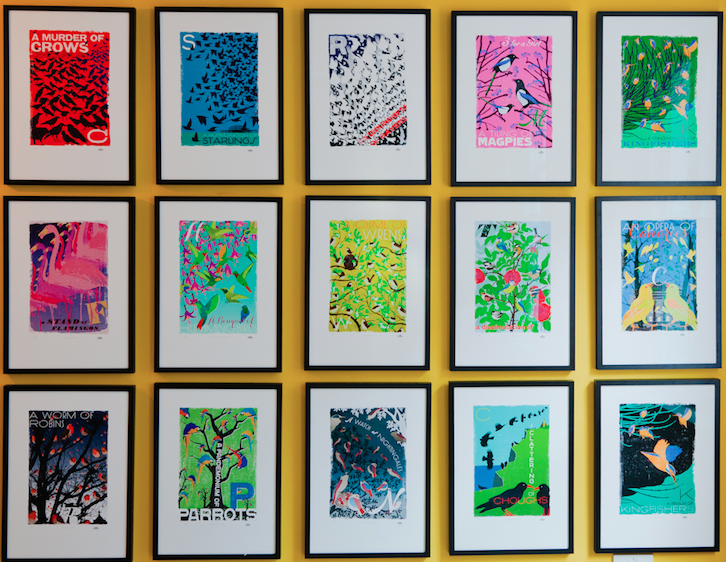 Has your working relationship changed over the last fifteen years with the likes to new projects?
"We're really lucky that we really get on. It is like a perfect working marriage. We're very complimentary in how we work as well. In any marriage, you work out who's good at what. We share the same sensibilities in design but we approach them differently. So, if there's any hand work I tend to stick to it, but then I might give it to Eduardo or it'll be the other way round. Of course, now we have a business so there's that element, so Eduardo is very good with that."
Is there a particular aspect of design that either of you are drawn to first or is it balanced?
"If there's anything that needs hand illustrating that's me". Mira says.
"But Eduardo is really good at seeing how busy things are put together. But over time, I've noticed I've started getting more busy and he's started to tone down a bit. It sounds a bit romantic but we haven't had a row yet. It's pretty good, we've invested so much now as a business and designers that we've got to just keep going. There's lots of serendipity and dare I say it, destiny. Even finding this building, we didn't have a plan. It all sort of evolved. At the end of the day I don't want to go home!"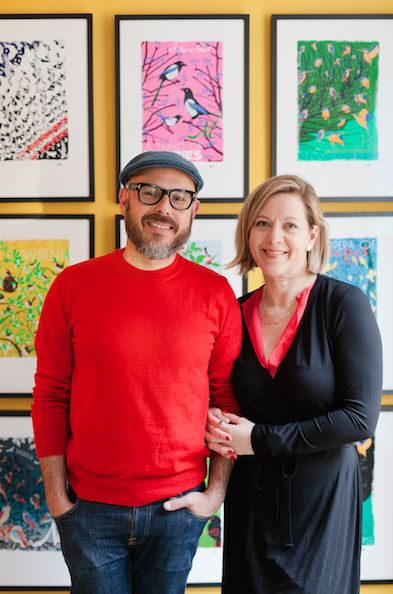 With 'Harry Potter And The Cursed Child Parts One & Two' opening at the Palace theatre just a few minutes walk from the exhibition, fans will have the perfect opportunity to become fully immersed in the wizarding world in a single day. House of MinaLima hopes to encourage the audience to take a short visit during the two hour intervals. It opens to the public today, June 3rd and entries are free!