LeakyCon: "Magical things are Happening…"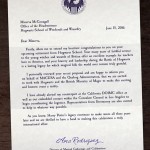 Jun 15, 2016
LeakyCon recently posted an exciting – yet mysteriously vague – letter to Minerva McGonagall to their Facebook page. The letter came from Ana Rodriguez – Director of Magical Gatherings and Celebrations at the US Department of International Magical Cooperation all the way in New York City:

The letter hints at an exciting event being planned, and LeakyCon posted this letter with the caption "Magical things are happening…":
"I personally reviewed your recent proposal and am happy to inform you on behalf of MACUSA and the Quahog Administration, that we are excited to work with Hogwarts and the British Ministry of Magic to make this exciting and historic event a reality.

I have already alerted my counterpart at the California DOIMC office as well as our embedded contact within the Consulate General in Los Angeles to begin coordinating the logistics. Representatives from Ilvermorny are also excited to help in whatever way possible.

…

We are thrilled to have a hand in making this celebration a truly international affair"
The exciting integration of new knowledge of North American magical institutions – thanks to Fantastic Beasts – and the incorporation of our beloved Professor McGonagall (maybe hinting at Cursed Child links?). Who knows! We're glad to hear that Harry's legacy is still going strong in the wizarding world!
LeakyCon is also now looking for programming proposals for presentations on magical subjects:
"We are looking for a select number of knowledgeable witches and wizards to present on their favorite magical topics at LeakyCon 2016. If you have a burning desire to share your ideas and research on the Harry Potter universe, this is the place to tell us about it so we can help you make it happen!"
What do you think it all means? Find out more and buy tickets at the LeakyCon website, here!