Watch the Exclusive 'Fantastic Beasts' VidCon Event Here!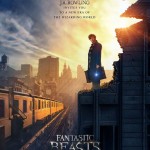 Jun 24, 2016
A team of worldwide creators set to market Fantastic Beasts over the coming months was introduced this week at VidCon. As this is one of the biggest fan conventions based around the power of online video, (originally conceived by YouTube's Vlogbrothers, Hank and John Green), it was only fitting that Youtubers led the panel and the new marketing strategy!
The event starts with the amazing trailer of Fantastic Beasts, of course (which you can find here)
The panel is then introduced by Youtubers Tyler Oakley and Ingrid Nilsen, telling us that more teasers are coming up in the next few months, let by 'worldwide creators' chosen by Warner Bros to market the film.
These worldwide creators are introduced on the Fantastic Beasts set, and give us a tutorial on correct posture and pronunciation of spells in the Wizarding World.
The panel of creators then introduce their houses, and kick off by answering a question by J.K. Rowling, who asks what it was like to be on set. Of course, most appreciate the level of detail behind the scenes of the film, and say how exciting it was to be on set!
The creators share stories on how they were introduced to the books and films, memories of being a part of the Potter fandom, why Eddie Redmayne is the perfect Newt Scamander, questions they have about the Fantastic Beasts storyline, and answer many more questions surrounding the new, expanded wizarding world we have been introduced to through Fantastic Beasts.
Be sure to watch the panel below to get to know the creators who will be marketing Fantastic Beasts – more teasers are soon to come!
This event came shortly after Warner Bros. release of another Fantastic Beasts poster, which you can find here.
Watch the video of the panel below!