Bonnie Wright's Film Aid T-Shirts Get Support of Harry Potter Co-Stars!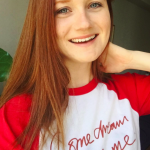 Jun 26, 2016
Bonnie Wright has been busy producing and directing her own short movies, and making t-shirts to support Film Aid.
Her 'Come Dream with Me' campaign has already gained the support of many of her Harry Potter co-stars, including J.K. Rowling!
Jason Isaacs (Lucius Malfoy) – who starred in Bonnie's latest film, Medusa's Ankles –  also showed himself wearing one of her shirts:
Katie Leung (Cho Chang) also got in on the campaign:
Afshan Azad (Padma Patil) also decided to help Bonnie and FilmAid out!:
The most recent campaign supporter has been Evanna Lynch (Luna Lovegood)!
Learn more over at Bonnie's Instagram, here!