Dan Radcliffe Says He Was 'Genuinely Scared' of Ralph Fiennes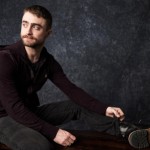 Jul 03, 2016
In the latest episode of The Jess Cagle Interview, Daniel Radcliffe talks about working with hugely successful actors such as Alan Rickman, Maggie Smith and Ralph Fiennes in his role as Harry Potter, and reveals a few stories about the late Richard Harris, and comments on being intimidated by Ralph Fiennes!
Dan is told to describe the actors he worked with. He calls Emma Watson 'smart', Rupert Grint 'funny', Maggie Smith 'sharp as a knife, in a wonderful way … tough and quick witted', Alan Rickman 'generous' and Michael Gambon 'out of control, funny, just mad in a great way, again'.
Richard Harris he says 'The first thing that comes to mind is phoenix, I suppose – there was this one moment where Fawkes, the animatronic phoenix in the second film … Richard thought it was a real bird'
Dan says of Richard Harris' death:
'I remember it was devastating, it was so sad … I'd never known a person who had died before so it was crazy. I feel like looking back it's just one of those things where you just have to go "I am so lucky to have worked with him" – it's an amazing thing to be able to say now … the films he made are going to be true parts of history, a lot of them, it's going to be an incredible thing to be able to say that I worked with him.
I've spent some time with his granddaughter, Ella, who's also a wonderful person- his whole family was incredibly sweet to me … I was involved a little bit in a memorial service for him and they were just incredibly kind and warm"
Dan describes Helena Bonham-Carter as 'nuts, and fabulous … I love her'
He then calls Ralph Fiennes 'genuinely intimidating':
'I remember when I was 15 doing scenes with Ralph for the first time. He was even scarier than Alan was at first … Alan was super intimidating to start off with as well, but then you get into it, but Ralph genuinely scared me for a few years.'
Dan then imagines working with Ralph on a comedy in the future, and says it was 'a hell of a learning experience' to have worked with him.
Read more at Entertainment Weekly, and watch the interview below!