Warwick Davis' 'Star Wars' Career Continues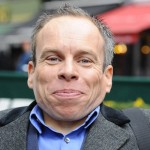 Jul 18, 2016
Throughout the years, Warwick Davis has appeared in three different Star Wars installments as five different characters. He has become a familiar face to those who follow the movies and is due to return this December in Rogue One: A Star Wars Story as a new character, rumored to be called Bistan.
The news of Warwick's addition to the Rogue One lineup comes just weeks after it was confirmed that Darth Vader himself would be making an appearance in the film, which is set immediately prior to the events in the franchise's first outing, A New Hope.
With his first Star Wars appearance as Wicket the Ewok in 1983's Return of the Jedi, and his latest appearance as Wollivan in last year's The Force Awakens, fans are excited to see what he will bring to the screen this time around. See more about his new role here.