'Cursed Child' Trio: "Being a Wizard is the Best Job Ever"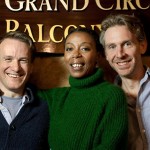 Jul 22, 2016
Jamie Parker, Paul Thornley and Noma Dumezweni are currently portraying Harry, Ron and Hermione on stage in Harry Potter and the Cursed Child, which opens for official performances on July 30th. The outside of Palace Theatre has been slowly growing into a masterpiece, adding more Potter-themed decorations in preparation for preview performances coming to an end. The new trio spoke to The Telegraph about their thoughts on how the process is going so far, and their reactions to being a part of a global phenomenon.
"It was absolute craziness, people were so pumped up" Paul Thornley  said, on seeing people wait outside the theatre prior to the first preview performance.. Noma simply stated: "This is quite big."
Jamie Parker later says:
"That benign attention and pressure has been the wind at our backs," he says. "The audience [mostly aged 25 to 35] have encouraged us and willed us to succeed the whole way. Generally in the theatre you spend some portion of the performance convincing people they have done the right thing in buying the ticket; that this is the play they want to watch. Never in our lives have we been able to hit the ground at full sprint like this."
Paul Thornley is just happy it's a solid job:
"It's extraordinary to be in a new show in the West End and know you're not going to close," says Thornley. "That's nice."
This interview actually took part in the very room where Thornley, Parker and Dumezweni discovered that they had made the bill – the basement bar of the Palace Theatre. According to The Telegraph, being a part of the Potter stories instantly had an impact on the three actors' lives:
"All three actors are discovering the transformative powers of Potter even before the show officially opens next Thursday. "My children finally think I'm doing something worthwhile," says Thornley, who has two daughters, Katy-Ann, 16, and Florence, eight. "That's glorious. I could be playing Hamlet at the RSC and they wouldn't give a monkey's, but Ron Weasley… it's got currency in the playground. Suddenly I'm worth talking to."
The actors were sworn to keep their wizardly identities secret until the cast was announced, but Thornley mistook the release date and told Florence a week in advance. "By which time she had told most of her class, her teacher and anyone else who wanted to know that her dad was Ron Weasley. So keeping the secret starts at home for me. I learnt a big lesson. She's gorgeous but she'll make a terrible spy.""
On J.K. Rowling asking preview audiences to #KeeptheSecrets:
"The hashtag KeeptheSecrets is a beautiful thing," says Dumezweni, whose nine-year-old daughter, Qeiva, took her insider responsibility so seriously that she asked: "Can I tell them it's in two parts?"
"J K Rowling is not a King John," says Parker. "She doesn't assume disloyalty. She assumes the fan base want to protect the secret. Spoilers are inevitable. If you're looking for them, you're going to find them. But it's still overwhelmingly easy to turn up to the theatre knowing nothing about it."
Noma then sums up the feeling of 2016 in a few beautiful sentences – we're getting Fantastic Beasts and Cursed Child all in one year, and we know that this play won't let fans down:
"There's a communion," says Dumezweni. "When the lights go down we're all in there together and that's what the keeping of secrets is. These people in their gut and their soul have travelled with Harry and Ron and Hermione and the other characters for years." 
Paul Thornley has been in Les Miserables, but we're glad to hear that he believes "Being a wizard is the best job ever". The trio tell The Telegraph that the audience are often audibly in awe of the performances, Parker calling the sounds 'a goldmine':
"All you want is a story that people want to be told. Of course we've got lots of toys and bells and whistles but it is not merely spectacle. What people care about is the internal life of these characters, the development of relationships and all the pressures and crises they experience. If we'd thought it was a big, cynical toys-only production, I'm pretty sure we'd have had nothing to do with it."
The actors then discuss the plot of the play (don't worry – no spoilers!):
 "As soon as you bring a child into the world, you feel guilty," says Thornley. "Am I doing it right? Am I doing it wrong? It continues. There are different problems all the way through. That comes across hugely in the play. It's clever and it's complex and it's troubling sometimes because you empathise with these problems."
Dumezweni and Thornley in particular faced backlash when their casting was announced, entirely based on their appearances (Rowling herself, their co-workers and other Potter alumni have since backed their performance as actors, giving them their full support). The Telegraph documented their reactions:
The actress [Dumezweni], who collected an Olivier award for her role in A Raisin in0 the Sun, and recently excelled in the title role in Linda at the Royal Court Theatre when Kim Cattrall had to pull out, treats the fuss with disdain. "You are looking at me. This is the skin colour I have. You choose to use the word 'black'. I am just an actress playing Hermione." She is pleased that mothers regard her as a beacon for their mixed-race daughters.
To quislings who don't think Thornley is red-headed enough to be Ron Weasley, the actor replies: "I am ginger in my soul."
Cursed Child will be opening officially next Thursday (30th July). Read more over at The Telegraph here!