The Leaky Cauldron at San Diego Comic-Con's 'Fantastic Beasts' Q&A!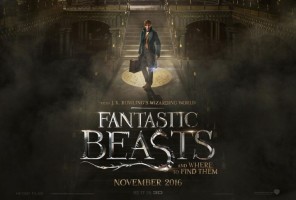 Jul 22, 2016
Tomorrow, The Leaky Cauldron will join the Fantastic Beasts team at San Diego Comic-Con and Warner Bros' special event at Leavesden Studios in London. Leaky will be involved with an exclusive Q&A with the cast and crew of the film, so listen out for us!
The Fantastic Beasts Facebook page also shared some new movie art celebrating their appearance at Comic-Con, and gave the username of the new Harry Potter Snapshat account (wizarding_world), which will be shared by Pottermore, Harry Potter and Fantastic Beasts teams. A special message will be delivered via the app tomorrow, so be sure to add them and check it!
The Wizarding_World has arrived on Snapchat… Add us for something special coming tomorrow! pic.twitter.com/0yBVbeQ7sh

— Fantastic Beasts (@FantasticBeasts) July 22, 2016
Be sure to add wizarding_world on snapchat and watch the Q&A at 10:10pm BST/ 2:10pm PT/5:10pm ET tomorrow via the Fantastic Beasts Facebook page (here) and Twitter (here), and listen out for Leaky's question!