USAopoly Introduces New Harry Potter Board Game!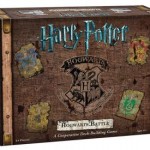 Jul 29, 2016
USAopoly recently revived fan-favorite Harry Potter board games, Trivia Pursuit's World of Harry Potter and Harry Potter CLUE. With multiple editions of well-loved Harry Potter games, it has been years since we've seen a brand new Harry Potter board game. With the resurgence of the Harry Potter franchise with the release of Harry Potter and the Cursed Child (both the opening of the play for preview and the script book reaching fans this weekend!!!) and the Fantastic Beasts and Where to Find Them films, USAopoly is releasing a new Harry Potter deck building game!
Harry Potter Hogwarts Battle–A Cooperative Deck-Building Game is a new interactive board game that allow players to take on Voldemort as one of their favorite member Dumbledore's Army (choosing between Harry, Ron, Hermione, or Neville). Each player must complete seven tasks, each one more challenging, to protect Hogwarts from Voldemort and his Death Eaters. Each player starts with cards specific to their character, and then collects more cards–spells, skills, abilities and more. USAopoly describes the game:
The forces of evil are threatening to overrun HOGWARTS™ castle in this new cooperative game! It's up to four students to ensure the safety of the school by defeating villains and consolidating their defenses. Players take on the role of a HOGWARTS student: Harry, Ron, Hermione or Neville, each with his or her own personal deck of cards. To secure the castle from the forces of evil the students must work together to build more powerful decks using iconic Wizarding World characters, spells, and items.  Defeat all the villains including He-Who-Must-Not-Be-Named and win the game!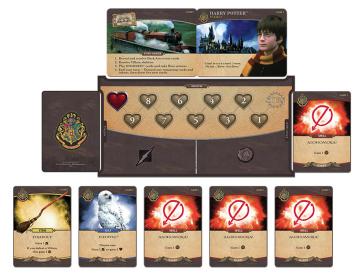 Play together as your favorite heroes! Harry, Ron, Hermione or Neville
Relive the excitement of the Wizarding World as you battle evil forces to defend HOGWARTS™
Become a more powerful wizard as you learn new spells and acquire more allies and items
Unlock new secrets and challenges with each successive game adventure

Fans can preview and play the game for the first time at GenCon in Indianapolis, August 4-7, 2016. A limited number of copies will be available for sale and fans will receive exclusive extra cards with purchase.
The game will be featured and available for purchase at GenCon (with exclusive extra cards!) August 4-7 , and is available for preorder on the Harry Potter Shop website. The game will be shipped out to customers September 15, 2016.
The Harry Potter Shop describes the game:
"Can you stop the forces of Evil from overtaking Hogwarts Castle? Take on the role of a HOGWARTS student; Harry, Ron, Hermione, and Neville to defeat the villains and ensure the safety of the school with this Hogwarts Battle Deck Building Game. Each character has his or her own personal deck of cards which is used to acquire resources. Add more cards to the deck to form iconic characters, spells, and magical items. But be weary of villains and the Dark Arts. Other cards allow you to regain health or to fight against villains, keeping them from gaining power. Only by working together will players be able to defeat all of the villains, securing the castle from the forces of evil. Includes game board, chip pieces, markers, health tracker boards, 245 cards, dice, card boxes, rules booklet, and sorting cards. Ages: 11+. 2-4 Players."