Happy Birthday to the Late Richard Griffiths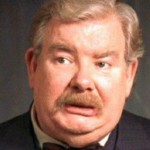 Jul 31, 2016
July 31st also marks the birthday of the late Richard Griffiths, who starred as Vernon Dursley in the Harry Potter films. He gave an excellent performance throughout the series, bringing to life the iconic line:
He also gave fantastic performances in Hugo, Pirates of the caribbean: On Stranger Tides, Bleak House, The Hitchhiker's Guide to the Galaxy and The Vicar of Dibley along with many other titles, and a Tony Award-winning performance in The History Boys.
Daniel Radcliffe gave a moving tribute to Griffiths upon hearing of his death in 2013:
"Richard was by my side during two of the most important moments of my career. In August 2000, before official production had even begun on Potter, we filmed a shot outside the Dursleys', which was my first ever shot as Harry. I was nervous and he made me feel at ease.
Seven years later, we embarked on Equus together. It was my first time doing a play but, terrified as I was, his encouragement, tutelage and humour made it a joy. In fact, any room he walked into was made twice as funny and twice as clever just by his presence. I am proud to say I knew him."
Amidst the excitement of the Cursed Child release and J.K. Rowling and Harry Potter's birthdays, it's important to spend a moment remembering those we have lost.
Please join The Leaky Cauldron in wishing him happy birthday, and keep him in your thoughts when you're celebrating this special day!